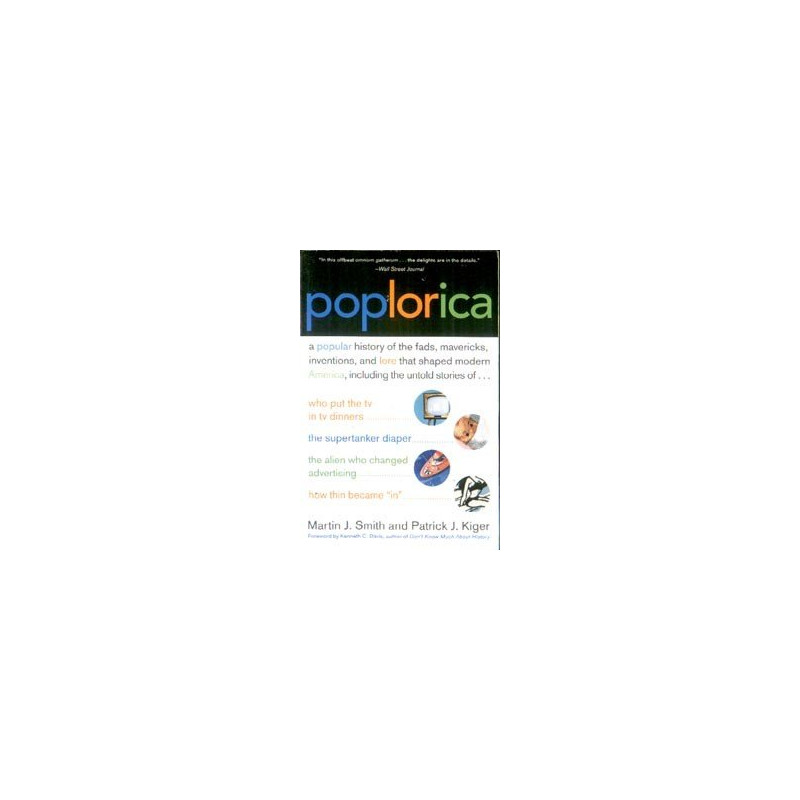  
Poplorica: Popular History of Fads, Mavericks, Inventions...
poplorica: a popular history of the fads, mavericks, inventions, and lore that shaped modern Amerca... Pop culture meets pop reference in this irreverent tour of twenty unlikely events, innovations, and individuals that forever changed how we live today -- the food we eat, the places we live, the love we make, the fads we follow, the clothes we wear, the products we buy, and much more.

Delivery policy
Options presented upon check-out for 1-3 day delivery
Format: Trade paperback

Condition: vg-/good+ condition, minor shelf wear, due to storage some light edge browning, originally unread overstock copy, remainder marked

Size: 5.25"x8.0"

Pages: 284pp, 2005 edition

Veteran journalists Martin J. Smith and Patrick J. Kiger make the offbeat their beat, revealing the odd, surprising, and amusing origins of inexplicable cultural phenomena. From slam dunks to rock 'n' roll punks, permanent press to pantyhose, black velvet painting to point-click culture, high-tech diapers to low-brow entertainment -- they cover sports, business, music, media, film, fashion, and science, and explain a lot about why life today is so weird:

* If homeowners hate yardwork, why do most suburban homes have lawns?
* In the best-fed country on earth, how did thin become "in"?
* When did the "convenience" of convenience food become more important than the food?
* Was the sexual revolution really sparked by the disastrous honeymoon of a science geek?
* Why are today's multimillion-dollar design and marketing plans for cars based on the biggest failure in automotive history?
* How did the invention of air conditioning radically rebalance political power and affect the paths of presidents?

The untold, unexpected, sometimes unholy stories are here, providing instant inside knowledge and richly entertaining insights into how and why we live as we do.