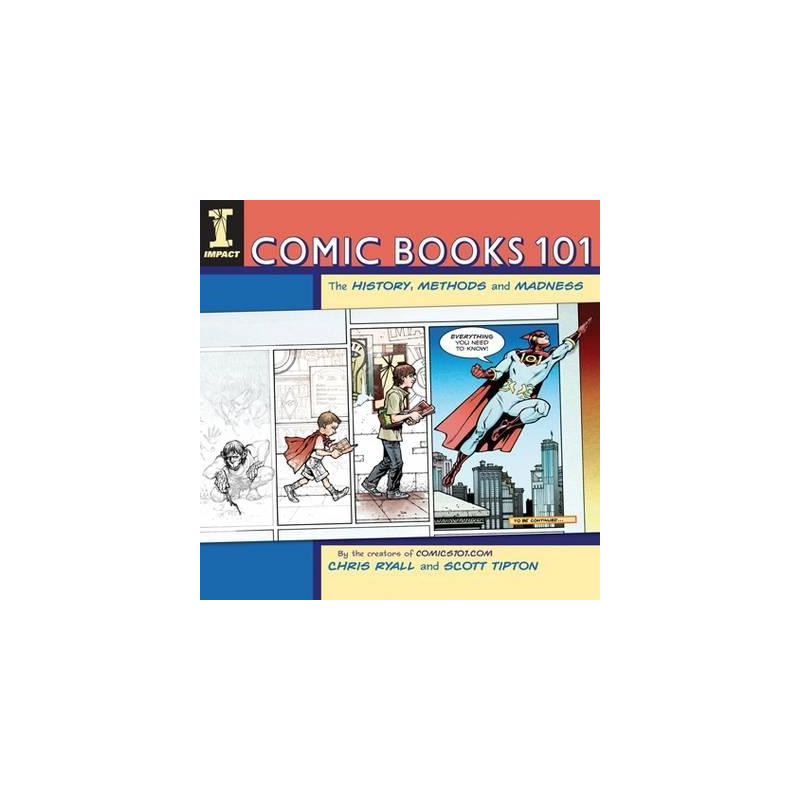  
Comic Books 101: The History, Methods and Madness
By Chris Ryall. 60+ years of comic book exploits—on the page and behind the scenes. Welcome to Comic Books 101, the complete, definitive and super-cool guide to the universe of caped crusaders, irradiated spiders, fantastic foursomes and the super-talents behind their creation.

Delivery policy
Options presented upon check-out for 1-3 day delivery
Format: Trade paperback

Condition: vg- condition, minor shelf wear

Size: 8.0"x8.0"

Pages: 288pp, 2009 edition

Others: All defects if any are formulated into pricing. May or may not have previous store stickers. Items were inspected but may still miss writings/inscriptions.
Want to know when Marvel, DC and so many other publishers got their start? Wonder why Spider-Man can't challenge Batman or the Justice League? Curious why the Avengers don't battle it out once and for all? It's all covered here: the good, the bad guys and the ugly truths—like why one of Batman's originators died virtually unknown and penniless.
Whether you're an absolute newbie, a casual fan or a loyal collector, this book holds the answers. Comic Books 101 will increase your knowledge and enjoyment of this great art form, and grant you the superpower of impressing others with useless yet fascinating trivia! (Which superhero dated a mermaid? Who battled the evil "Egghead," portrayed by what famous actor?)
Includes an introduction by

Stan "The Man" Lee, plus contributions from Clive Barker, Harlan Ellison, Gene Simmons, Mark Waid, Paul Dini, Joe Hill, Marv Wolfman, Joe Casey

and many others.

Reveals backstories for Superman, Batman, Wonder Woman, the Flash, Green Lantern, the Justice League of America, Captain America, the Fantastic Four, the Incredible Hulk, Spider-Man, The Mighty Thor, Iron Man, The Avengers, the X-Men…and other comic book greats.

Offers an all-inclusive overview of comics, then and now—from the Sub-Mariner to Bone, from origins to Hollywood adaptations…complete with lingo, required reading lists, bios of the most influential names in the industry and much more!