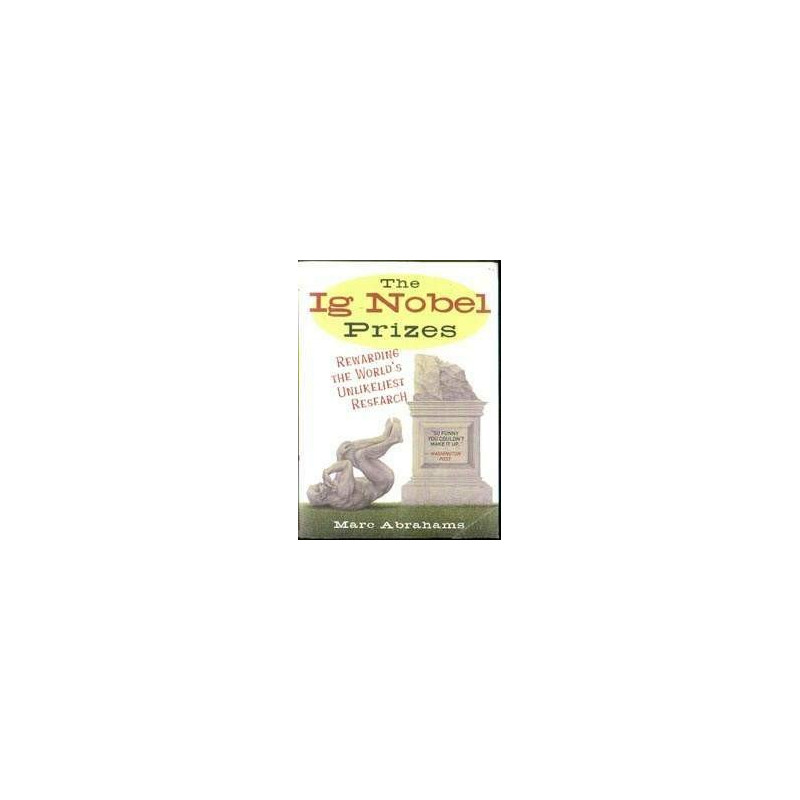  
The Ig Nobel Prizes: Rewarding The World's Unlikeliest Research
By Marc Abrahams. The Nobel Prize recognizes the world's most talented and innovative minds. Unfortunately, not all of the hopeful thinkers and academics around the globe can become Nobel laureates, but some are lucky enough to win an Ig Nobel Prize instead.

Delivery policy
Options presented upon check-out for 1-3 day delivery
Format: Trade paperback

Condition: vg- condition, minor shelf/storage wear, originally unread overstock copy, some light spotting on top page edges

Size: 5.25"x7.25"

Pages: 240pp, 2004 edition

Drawn from the world's unlikeliest actual research, The Ig Nobel Prizes demonstrates the extreme measures that people will take in the quest for knowledge, and pays tribute to those individuals whose achievements cannot- or should not- be reproduced. Recent Ig Nobel honorees include:

- the physicist who proved that toast falls buttered side down more often than not
- The Southern Baptist Church of Alabama, which devised a formula to determine how many Alabamas will go to hell
- the Founder of the amusement park known as "Stalin World"
- elevator music prevents the common cold
- David Dunning of Cornell University and Justin Kruger of the University of Illinois, for their modest report, "Unskilled and Unaware of It: How Difficulties in Recognizing One's Own Incompetence Lead to Inflated Self-Assessments"
- Ig Nobel Economics Prize: Nick Leeson and his superiors at Barrings Bank, and to Robert Citron of Orange County, California, for using the calculus of derivatives to demonstrate that every financial institution has its limits
- Ig Nobel Economics Prize: the executives, corporate directos and auditors of Enron, Adelphia, CMS Energy, WorldCom, Arthur Andersen, etc for adapting the mathematical concept of imaginary numbers for use int he business world
- Ig Nobel Statistics: Jerald Bain fo Mt. Sinai Hospital and Kerry Siminoski of the University of Alberta for their carefully measured report, "The Relationship Among Height, Penile Length, and Foot Size"
- and many more!