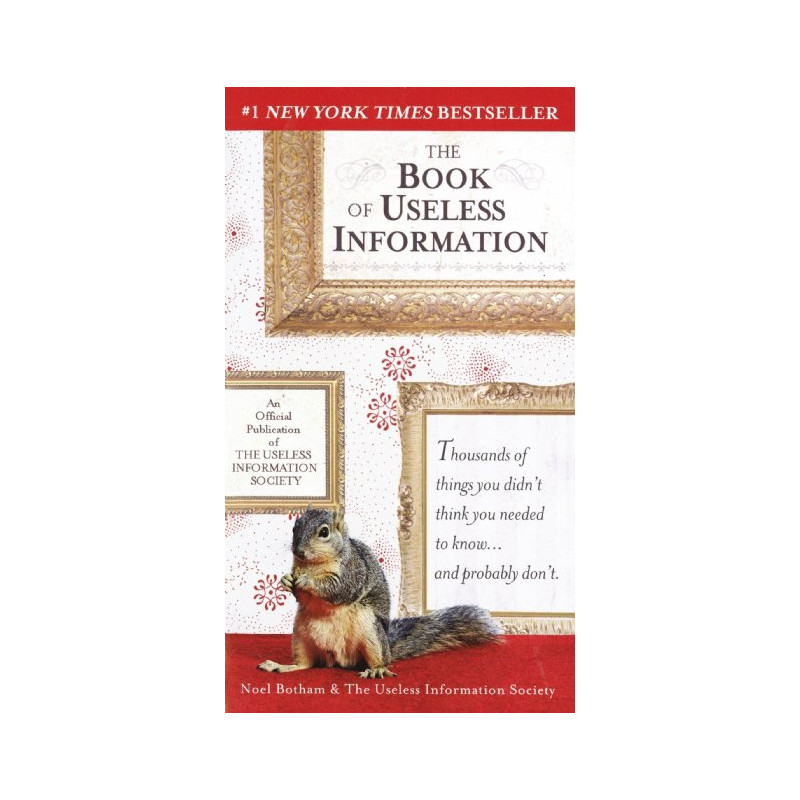  
The Book of Useless Information by Noel Botham
Thousands of things you didn't think you needed to know... and probably don't.

Delivery policy
Options presented upon check-out for 1-3 day delivery
Format: Trade paperback

Condition: vg- condition, minor shelf wear

Size: 5.25"x8.0"

Pages: 2006 edition, 286pp.

Others: All defects if any are formulated into pricing. May or may not have previous store stickers. Items were inspected but may still miss writings/inscriptions.

What you may so cavalierly call useless information could prove invaluable to someone else. Then again, maybe not. But to The Useless Information Society, any fact that passes its gasp-inducing, not-a-lot-of-people-know-that test merits inclusion in this fascinating but ultimately useless book...

Did you know (or do you care)...

- That fish scales are used to make lipstick?
- Why organized crime accounts for ten percent of the United States's annual income?
- The name of the first CD pressed in the United States?
- The last year that can be written upside-down or right side-up and appear the same?
- The shortest performance ever nominated for an Oscar?
- How much Elvis weighed at the time of his death?
- How many Quarter Pounders can be made from one cow?
- How interesting useless information can be?

The Book of Useless Information answers these teasers and is packed with facts and figures that will captivate you—and anyone who shares your joy in the pursuit of pointless knowledge.