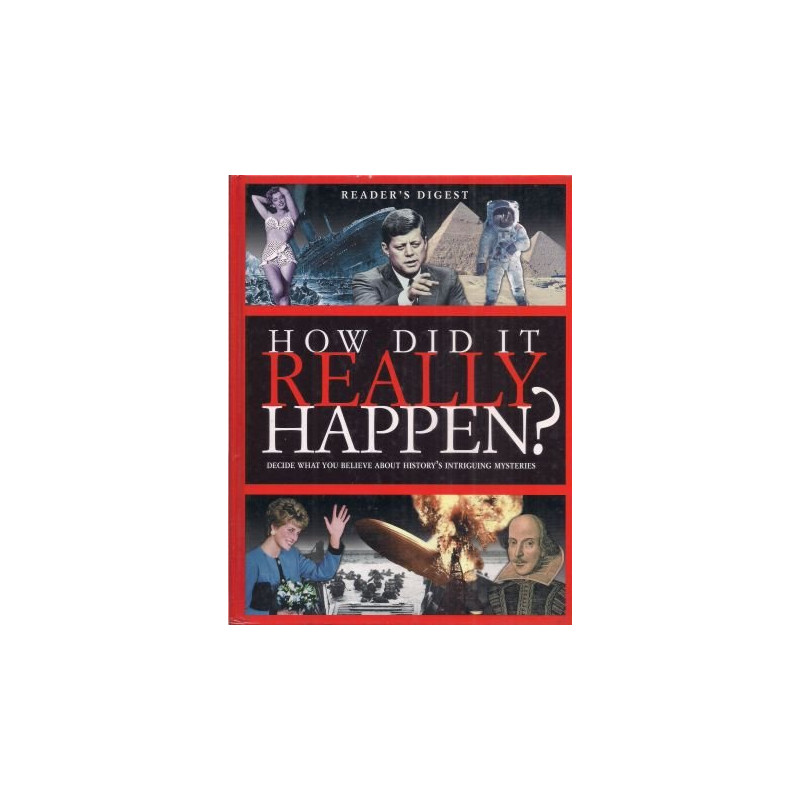  
Reader's Digest: How Did It Really Happen? (Hardbound)
Hardbound. Decide what you believe about history's intriguing mysteries.

Delivery policy
Options presented upon check-out for 1-3 day delivery
Format: Hardbound, no dustjacket as issued

Condition: vg- condition, minor shelf/aging wear

Size: 8.5"x11.0"

Pages: 352pp, 2000 edition

Others: All defects if any are formulated into pricing. May or may not have previous store stickers. Items were inspected but may still miss writings/inscriptions.

From the beginning of time, the mystery and drama surrounding historic events and famous people- and the facts that let you decide for yourself what to believe.

Why do so many doubts remain about the assassinations of JFK, RFK, and MLK? Did Marilyn Monroe really commit suicide? What happened to TWA Flight 800?

How did Caesar and Cleopatra really die? Why was Constantine the Great so great? What happened between the queen of Sheba and King Solomon?

Are Robin Hood, Lady Godiva, and King Arthur merely the stuff of legend, or did they live and breathe?

How did the universe begin? What happened to the dinosaurs? Who were the first humans?

Will we ever travel to other planets? Is there intelligent life out there? How will the earth end?