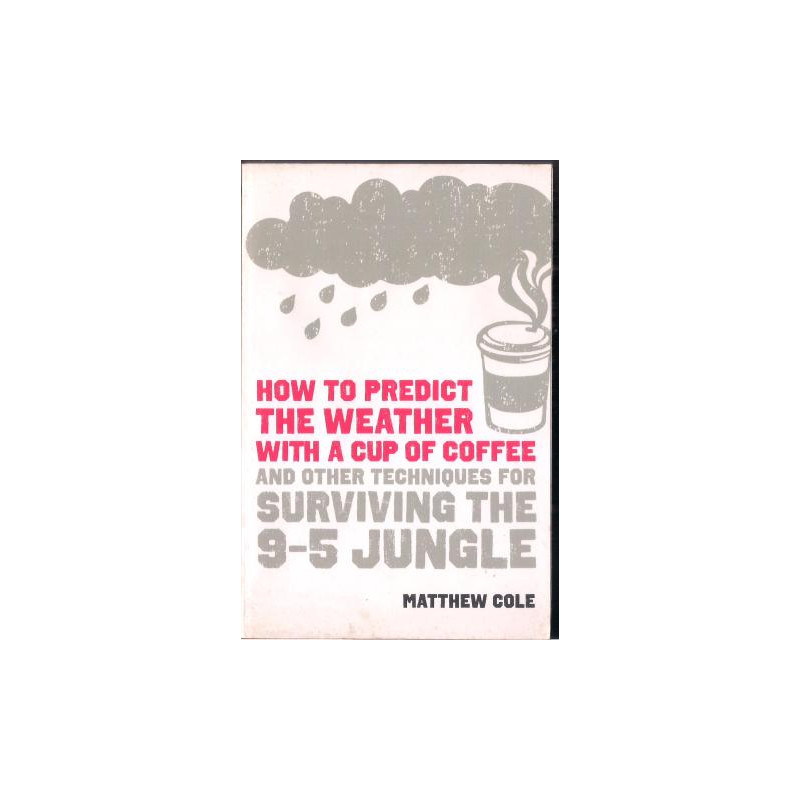  
How to Predict the Weather with a Cup of Coffee
and other techniques for surviving the 9-5 jungle. By Matthew Cole.

Delivery policy
Options presented upon check-out for 1-3 day delivery
Format: Trade paperback

Condition: vg- condition, minor shelf wear

Size: 5.25"x8.0"

Pages: 208pp., 2011 edition

Others: All defects if any are formulated into pricing.
More than just a modern survival guide, How to Predict the Weather with a Cup of Coffee gives you the means to make your life more interesting. Harnessing the laws of science, nature, and human behavior, author Matthew Cole revisits and humorously reinvents the little tricks and ingenious solutions developed in the past with an updated twist for the 21st century.
In How to Predict the Weather with a Cup of Coffee, you'll learn:
- How to cook a perfect steamed fish while running your dishwasher
- Step-by-step instructions for getting to the front of a grocery store line.
- How to screen phone calls using your microwave.
- How far you (and your thumb) are from any object-by knowing this one magic number.
- Why invoking Hannibal Lector will make you feel more powerful at the office.
- Which Valentine's Day treat works as a deodorant in a pinch
- How to light a fire with a soda can and chocolate bar
- And finally, how to predict the weather with a cup of coffee. Take a cup of black coffee, drop a lump of sugar to the bottom of the cup, don't stir or disturb the coffee, watch the bubbles rise to the surface. Bubbles in the middle means fine weather, bubbles around the rim, rain or snow and bubbles all over the place, changeable weather.