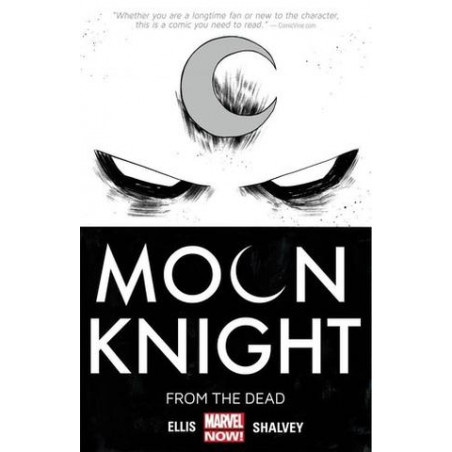  
Moon Knight (2014) Vol. 1: From The Dead
Collecting Moon Knight (2014) #1-6, written by Warren Ellis and Illustrated by Declan Shalvey.

Delivery policy
Options presented upon check-out for 1-3 day delivery
Format: Comics Trade paperback, OUT-OF-PRINT and hard-to-find
Condition: vg- condition. minor shelf wear, remainder marked
Size: 6.0"x9.0"
Pages: 140pp, 2015 edition.
Marc Spector is Moon Knight! Or is he? It's hard to tell these days, especially when New York's wildest vigilante protects the street with two-fisted justice and three -- that's right, count 'em -- three different personalities!
But even with the mystical force of Egyptian moon-god Khonshu fueling his crusade, how does the night's greatest detective save a city that's as twisted as he is? The road to victory is going to hurt. A lot. Be there as Moon Knight punches ghosts(!), investigates a sleep experiment that's driving its patients insane, travels to the mushroom graveyard planet(!!), faces the Black Spectre and takes on twenty mob enforcers to save an abductee...alone.
Marvel's most mind-bending adventure begins as Moon Knight sleuths his way to the rotten core of New York's most bizarre mysteries!