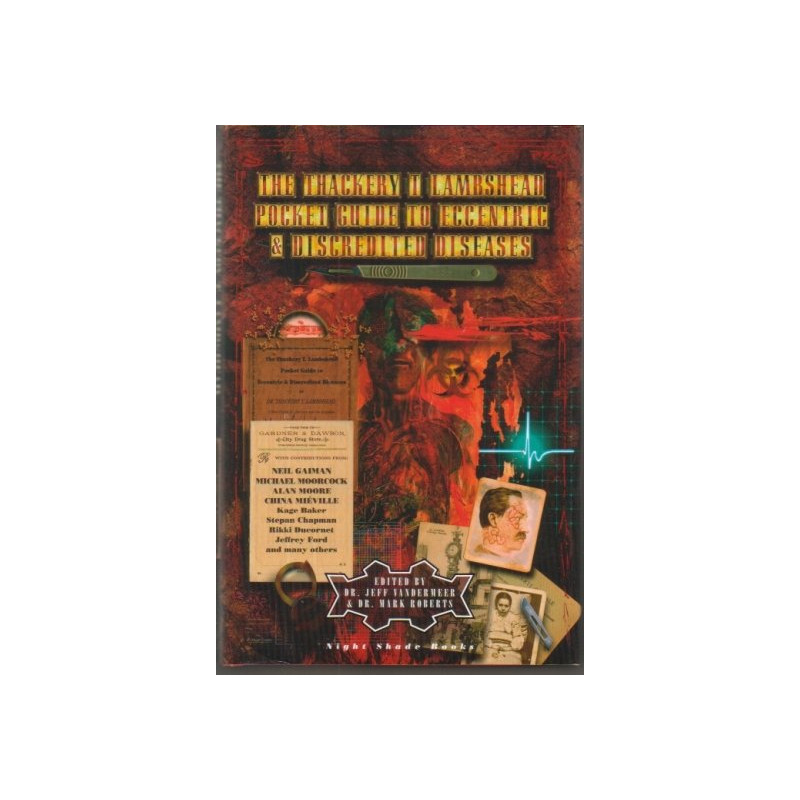  
The Thackery T. Lambshead Pocket Guide to Eccentric & Discredited Diseases (SIGNED)
Marvelously entertaining dip-in spoof guide to exotic fictional illnesses and afflictions, with over eighty entries contributed by fifty-eight writers, including the editors themselves and Steve Aylett, Neil Gaiman, David Langford, China Mieville, Michael Moorcock, Brian Stableford, etc. It is illustrated throughout with curious and humorously unenlightening sketches.

Delivery policy
Options presented upon check-out for 1-3 day delivery
Format: Hardbound

Condition: brand new, only opened for pictures

Pages: 298pp, 2003 edition

Status: only 650 copies printed, signed by all contributors

"Imagine if Monty Python wrote the Mayo Clinic Family Health Book, and you sort of get the idea. Afraid you're afflicted with an unknown malady? Finally you have a place to turn!" —Book Sense

You hold in your hands the most complete and official guide to imaginary ailments ever assembled—each disease carefully documented by the most stellar collection of speculative fiction writers ever to play doctor. Detailed within for your reading and diagnostic pleasure are the frightening, ridiculous, and downright absurdly hilarious symptoms, histories, and possible cures to all the ills human flesh isn't heir to, including Ballistic Organ Disease, Delusions of Universal Grandeur, and Reverse Pinocchio Syndrome.

Lavishly illustrated with cunning examples of everything that can't go wrong with you, the Lambshead Guide provides a healthy dose of good humor and relief for hypochondriacs, pessimists, and lovers of imaginative fiction everywhere. Even if you don't have Pentzler's Lubriciousness or Tian Shan-Gobi Assimilation, the cure for whatever seriousness may ail you is in this remarkable collection.

SIGNED by ALL contributors include Dawn Andrews, Steve Aylett, Kage Baker, Nathan Ballingrud, Michael Barry, R. M. Berry, K. J. Bishop, Micheal Bishop, Richard Calder, Jay Caselberg, Stephan Chapman, Micheal Cisco, Alan M. CLark, Michael Cobley, Brendan Connell, John Coulthart, Gary Gouzens, Paul Di Filippo, Cory Doctorow, L. Timmel Duchamp, Rikki Ducornet, Brian Evenson, Elliot Fintushel, Jeffrey Ford, Neil Gaiman, Sara Gwenllian Jones, Rhys Hughes, Shelley Jackson, Harvey Jacobs, Frederick John Kleffel, Jay Lake, Thackery T. Lambshead, David Langford, Tim Lebbon, Gabreil Mesa, China Mievielle, Micheal Moorcock, Alan Moore, Martin Newell, Mike O'Driscoll, Lance Olsen, Rachel Pollack, Steve Redwood, Iain Rowan, Eric G. Schaller, Jay Slay Jr., Brian Stableford, Steve Rasnic Tem, Jeffrey Thomas, Jeff Topham, R. F. Wexler, Liz Williams, Neil Williamson, Andrew J. Wilson, Gahan Wilson, and Tamar Yellin.