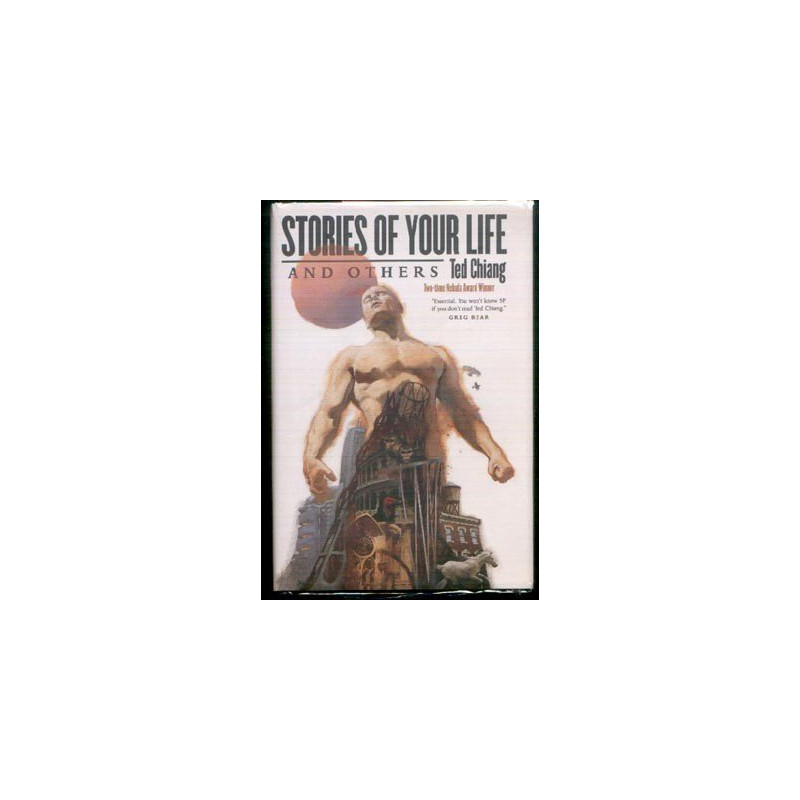  
Stories Of Your Life and Others by Ted Chiang (HB SIGNED!)
Hardbound. "His almost unfathomably wonderful stories tick away with the precision of a Swiss watch- and explode in your awareness with shocking, devastating force."- Kirkus Reviews

Delivery policy
Options presented upon check-out for 1-3 day delivery
Format: Hardbound

Condition: fine-/vg+ condition, unread copy, removable mylar dustjacket cover

Pages: 334pp, 2002 edition

Status: SIGNED by Ted Chiang and cover artist Gregory Mancess on the title page, 1st edition, 1st printing, Out-of-Print

What if men built a tower from Earth to Heaven and broke through to Heavens other side? What if we discovered that the fundamentals of mathematics were arbritrary and inconsistent? What if there were a science of naming things that call life into being from inanimate matter? What if exposure to an alien language forever changed our perception of time? What if all the beliefs of fundamentalist Christianity were literally true, and the sight of sinners being swallowed into fiery pits were a routine event on city streets? These are the kinds of outrageous questions posed by the stories of Ted Chiang.

Collected here for the first time, Ted Chiang's award-winning stories--recipients of the Nebula, Sturgeon, Campbell, and Asimov awards--offer a feast of science, speculation, humanity, and lyricism. Standouts include "Tower of Babylon," in which a miner ascends the fabled tower in order to break through the vault of heaven; "Division by Zero," a precise and heartbreaking examination of the disintegration of hope and love; and "Story of Your Life," in which a linguist learns an alien language that reshapes her view of the world. Chiang has the gift that lies at the heart of good science fiction: a human story, beautifully told, in which the science is an expression of the deeper issues that the characters must confront. Full of remarkable ideas and unforgettable moments, Stories of Your Life and Others is highly recommended.

================

Here's the first must-read SF book of the year. Chiang has acquired a massive reputation on the basis of very few pieces of short fiction. This collection contains all six previously published tales, including the Nebula Award-winning "Tower of Babylon," plus a new story, "Liking What You See: A Documentary." It's rare for a writer to become so prominent so fast. In this case, though, the hype is deserved. Chiang has mastered an extremely tricky type of SF story. He begins with a startling bit of oddity, then, as readers figure out what part of the familiar world has been twisted, they realize that it was just a small part of a much larger structure of marvelous, threatening strangeness. Reading a Chiang story means juggling multiple conceptions of what is normal and right. Probably this kind of brain twisting can be done with such intensity only in shorter lengths; if these stories were much longer, readers' heads might explode. Still, the most surprising thing is how much feeling accompanies the intellectual exercises. Whether their initial subject is ancient Babylonians building a tower that reaches the base of Heaven, translation of an alien language that shows a woman a new way to view her life as a mother, or mass-producing golems in an alternative Victorian England, Chiang's stories are audacious, challenging and moving. They resemble the work of a less metaphysical Philip K. Dick or a Borges with more characterization and a grasp of cutting-edge science.