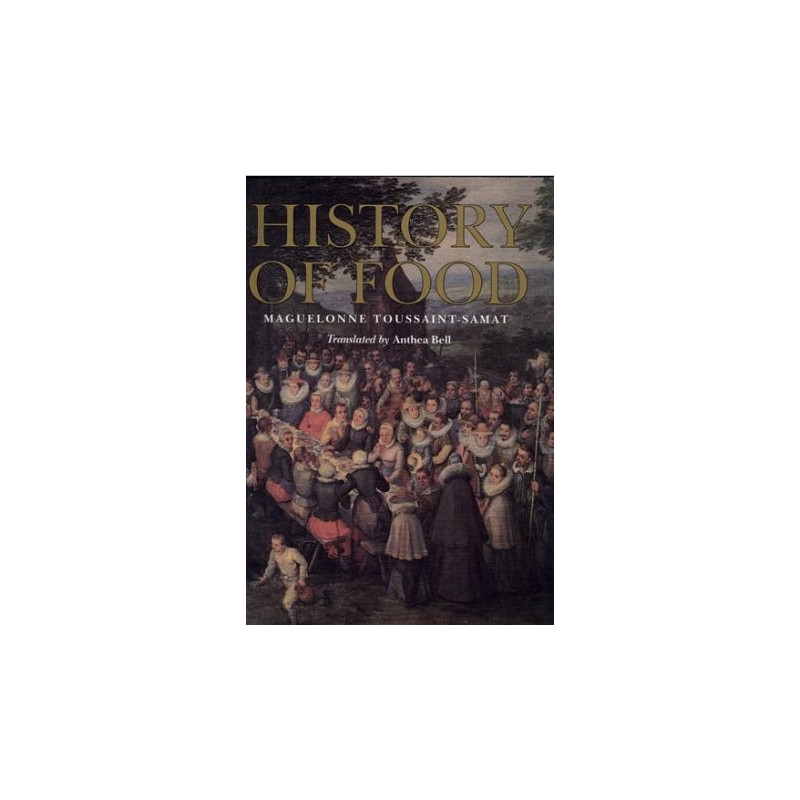  
History of Food by Maguelonne Toussaint-Samat (Hardbound)
Hardbound, hard-to-find. Translated by Anthea Bell. This wide-ranging and comprehensive reference history covers in one volume the history of foodstuffs, the story of cuisine and the social history of eating.

Delivery policy
Options presented upon check-out for 1-3 day delivery
Format: Hardbound

Condition: vg- condition, minor shelf wear

Size: 7.5"x10.5"

Pages: 802pp, 1992 edition, Blackwell Reference

Others: All defects if any are formulated into pricing

- Includes all manner of natural sources of food, and tells the story of domestication of animals and farming of crops.

- Tells many of the great legends of food: how the gods gave olives to the Greeks; how Luther railed against indulgences that permitted butter to be eaten during Lent

- Relates the history of exotic fruits including the royal passions for pears and strawberries that led to their wider cultivation

- Covers the foods of pleasure from chocolate to wine, and from truffles to caviare

- Extensively illustrated with paintings, drawings and photographs of food through the ages.

From the origins of mankind, and the transition from a vegetable to an increasingly carnivorous diet, the story unfolds of the interrelationship between people and diet, between particular foods and social mores, between dietary custom and cuisine.

A strong theme of natural history runs through the book. Bees and honey are examined and discussed, as are pulses, soya, fungi, cereals and the sources of vegetable oils. Game and meat of all kinds from poultry to horsemeat are described, as are all kinds of sea foods. Domestic animals, vegetable and fruit farming, fish farming and other human initiatives are compared with the economic markets they serve, and the dietary effects they have. Foods of pleasure, from confectionery to wine, from coffee to caviare are also covered.

This vast survey concludes with an investigation of scientific issues, including methods of food preservation, dietetics and the importance of vitamins. A selection of significant illustrations is included in the text, and there is a comprehensive bibliography and index.

The French edition of this book won the History Prize of the Societe des Gens de Lettres de France.