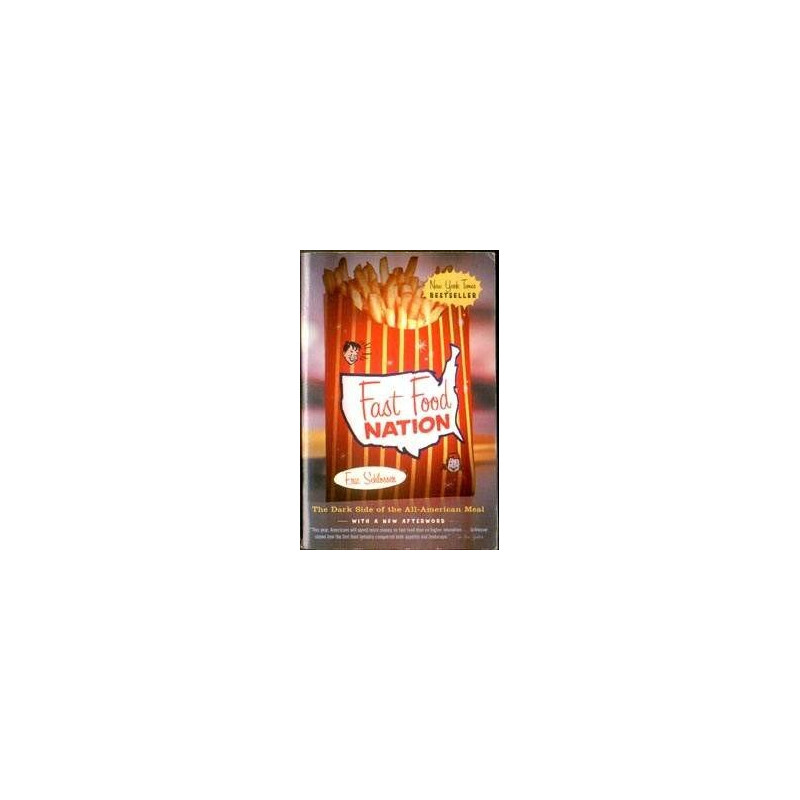  
Fast Food Nation: The Dark Side of the All-American Meal by Eric Schlosser
"This year, Americans will spend ore money on fast food than on higher education... Schlosser shows how the fast food industry conquered both appetite and landscape."- The New Yorker

Delivery policy
Options presented upon check-out for 1-3 day delivery
Format: Trade paperback

Condition: vg- condition, minor shelf wear

Size: 5.25"x8.0"

Pages: 384pp, 2002 edition

On any given day, 1 out of 4 Americans opts for a quick & cheap meal at a fast-food restaurant, without giving either its speed or its thriftiness a second thought. Fast food is so ubiquitous that it now seems as American, and harmless, as apple pie. But the industry's drive for consolidation, homogenization, and speed has radically transformed America's diet, landscape, economy, and workforce, often in insidiously destructive ways. Eric Schlosser, an award-winning journalist, opens his ambitious and ultimately devastating exposé with an introduction to the iconoclasts and high school dropouts, such as Harlan Sanders & the McDonald brothers, who first applied the principles of a factory assembly line to a commercial kitchen. Quickly he moves behind the counter with the overworked and underpaid teenage workers, onto the factory farms where the potatoes & beef are grown, and into the slaughterhouses run by giant meatpacking corporations. Schlosser wants you to know why those French fries taste so good (with a visit to the world's largest flavor company) & "what really lurks between those sesame-seed buns." Eater beware: forget your concerns about cholesterol, there is--literally--feces in your meat.