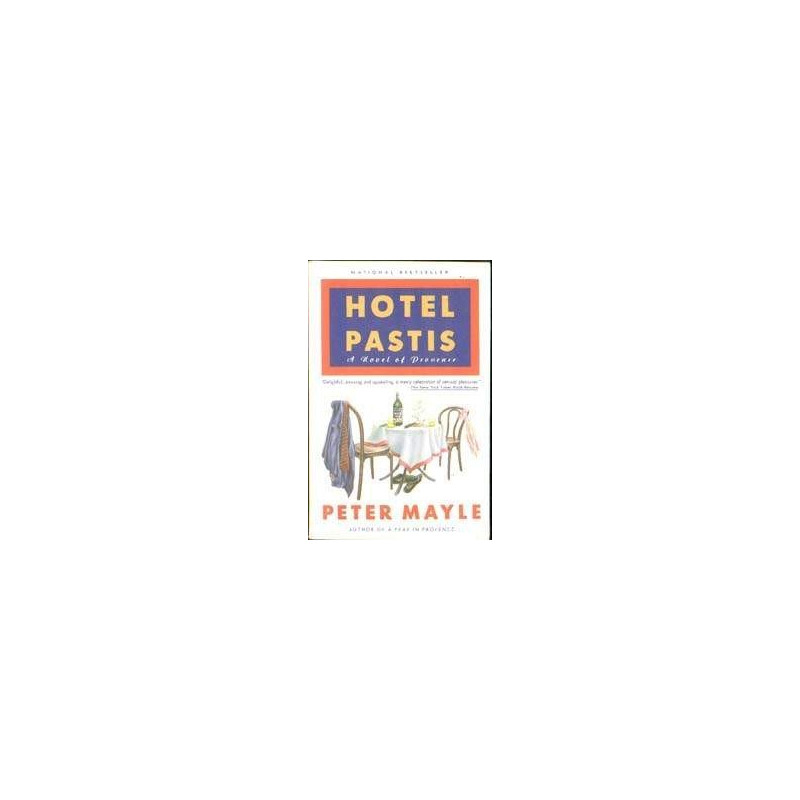  
Hotel Pastis by Peter Mayle
From the author of A Year in Provence and Toujours Provence.

Delivery policy
Options presented upon check-out for 1-3 day delivery
Format: Trade paperback

Condition: good+ condition, minor shelf/aging wear

Size: 5.25"x8.0"

Consumer glories rendered by a master in a richly amusing first novel set in London and Provence, even more stylish than Mayle's travel hits. That background feeds into his novel--the story of cultivated advertising colossus Simon Shaw, now 42, tired of the ad game, divorced by his "neglected" wife, who has gone high society with a mania for fancy decoration. Taking his first vacation in over two years, Simon solos into sleepy town, where his injured Porsche must remain while parts are shipped in. Simon deliquesces in Paradise, or melts into sappy goo, under the tanned cleavage of Nicole Bouvier, a homeowner pinched by thin alimony payments. A London meet with the Rubber Barons, a condom company offering a $30 million-dollar account, and a visit to Nicole convince him that he's burnt out at advertising and would much rather refurbish the abandoned gendarmerie and turn it into a first-class hotel, with the aid of his tartly well-spoken majordomo Ernest- and Nicole! Meanwhile, a band of thieves dryly plan and carry out the July 14th holiday robbery of the most picturesque little bank in Provence, an event that becomes the unwanted kidnapping of a billionaire's son.