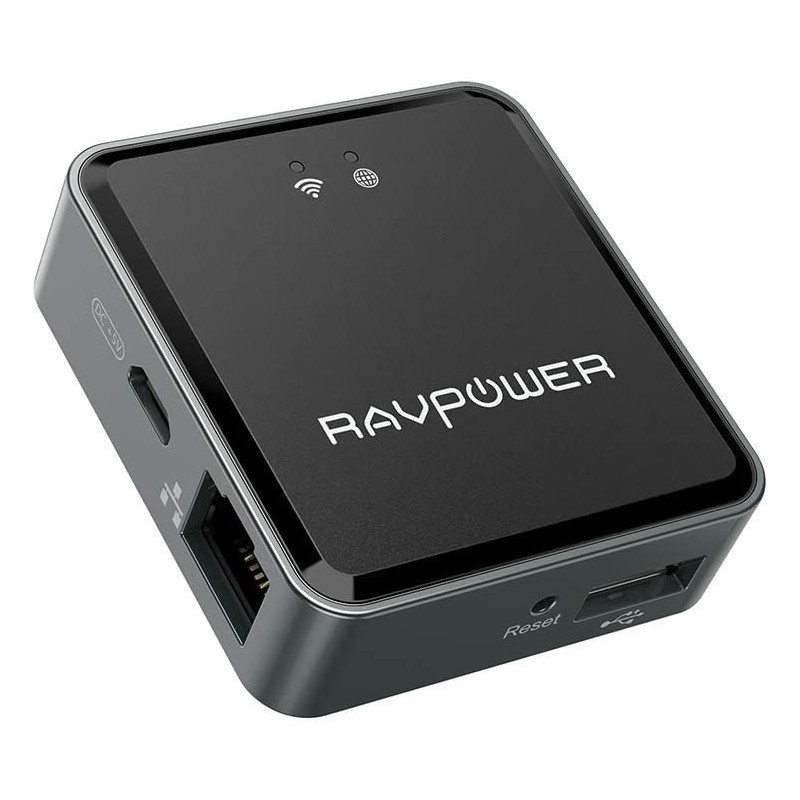  
RAVPower Filehub, Travel Router N300 - HooToo TripMate Nano Update Version
Hotspot WiFi Devices, WiFi Bridge/Range Extender/Access Point/Client Modes, DLNA NAS Sharing Media Streamer.

Delivery policy
Options presented upon check-out for 1-3 day delivery
ITEM BOUGHT NEW but unsealed and opened for inspection, testing and configuration. You will need to reset the unit before using.
Bought from Amazon.com. Opened and tested for less than an hour. Figured I won't be really needing it so selling it.
Things of note: DOES NOT include charger or power cord. This is as intended. Great for travel, hotels and Internet access that limits number of users per connection.
Description from RAVPOWER company website. Any discrepancies from actual unit is unintentional and not the responsibility of the seller.

Wireless Storage
Wirelessly stream videos, share photos, or trade files with a secure local Wi-Fi network.

Up to 5 mobile devices
Up to 5 mobile devices can connect simultaneously allowing you to stream media from the SD or USB drives, or you can directly share files between two different storage devices.


Wireless Travel Router
Router Mode

When connected to a DSL or cable modem, it works as a regular router.
Bridge Mode

Connects to an existing Wi-Fi network and broadcast it as a new wireless signal.
AP Mode (Wired -> Wireless)

Plug in an Ethernet cable and it will take a wired signal and turn it wireless.

As a portable router, you can turn any wired network to wireless, or connect it via a DSL or cable modem.
Portable DLAN Media Server
Wireless stream videos or transfer/share files to attached device via a self-generated Wi-Fi signal.
Media Streamer & Sharer

Up to five different devices to seamlessly share with your families, friends and stream your videos, photos, and music on your connected smartphones, tablets, TVs, media players, Chromecast, Roku, and other DLNA devices, via App or Web. ( Do not support 4K video play)

Portable travel router & DLAN Media Server

RP-WD008 must connect power to work.

Please note:

1) Due to the limitation of the Apple iOS system, you can ONLY access the Photos folder on your iPad/iPhone; Filehub is currently unable to sync with media files stored in iTunes to USB storage devices due to digital rights management (DRM).

2) Does not work with Mac formatted hard drive.