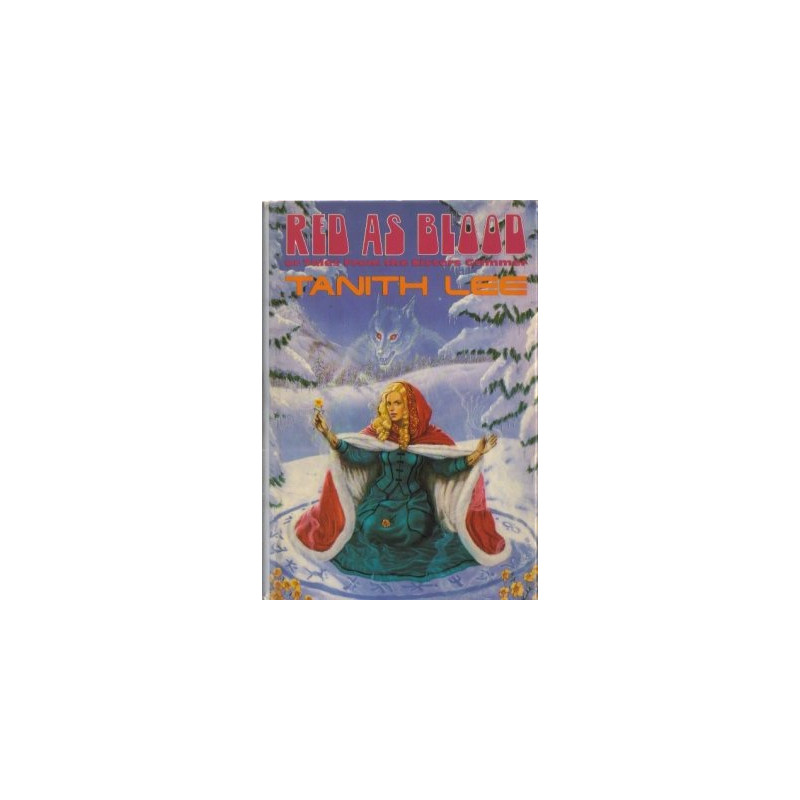  
Red As Blood (or Tales From the Sisters Grimmer) by Tanith Lee (HB)
Out-of-Print Hardbound edition. Here are nine devilishly twisted fairy tales as the Brothers Grimm never dared to tell them.  With her brilliantly macabre pen, Tanith Lee retells some familiar tales, and concocts some new and unusual ones, as she asks us to consider the possibility that things may not work as our fairy tales have them...

Delivery policy
Options presented upon check-out for 1-3 day delivery
Format: Hardbound

Condition: vg- condition, minor shelf/aging wear, previous owner book plate (Boris Vallejo work)

Pages: 186pp, 1983 edition

Status: Very hard-to-find, DAW Publishing



In the title story, Lee shows us a perfectly good stepmother, whose Princess stepdaughter reeks of evil. Then there is Ashella, the Cinderella-like girl who, "When the Clock Strikes," intends to give her Prince Charming a deadly surprise. In "Wolfland," Lisel takes a trip through the woods to visit her grandmother- who bears little resemblance to the loving old woman we expect. And in "Thorns" you'll find the haunting answer to the question, "What if awakening the Sleeping Beauty turns out to be the mistake of a lifetime- of several lifetimes, in fact?"

Populated with demons and devils, vengeful gods and not-so-innocent young girls, the nine tales of Red As Blood weave a tapestry of chilling vissions, spun by the incomparably fiendish imagination of Tanith Lee.

Contents:
1 Paid Piper
18 Red As Blood
29 Thorns
39 When the Clock Strikes
55 The Golden Rope
82 The Princess and her Future
91 Wolfland
121 Black As Ink
149 Beauty

And then, in the ballroom, Death struck the first note on the golden bell.
The girl smiled and she said,
"I curse you in my mother's name."
The second stroke.
"I curse you in my own name."
The third stroke.
"And in the name of those that your father slew."
The fourth stroke.
"And in the name of my Master, who rules the world."
As the fifth, the sixth, the seventh strokes pealed out, the prince stood nonplussed. At the eighth and the ninth strokes, the strength of the malediction seemed to curdle his blood. He shivered and his brain writhed. At the tenth stroke, he saw a change in the loveliness before him. She grew thinner, taller. At the eleventh stroke, he beheld a thing in a ragged black cowl and robe. It grinned at him. It was all grin below a triangle of sockets of nose and eyes. At the twelfth stroke, the prince saw Death and knew him.
In the ballroom, a hideous grinding noise, as the gears of the clock failed. Followed by a hollow booming, as the mechanism stopped entirely.

The conjuration of Death vanished from the terrace.

Only one thing was left behind. A woman's shoe. A shoe no woman could ever have danced in. It was made of glass.

Note: From "When the Clock Strikes".. and that's not the end of the story...