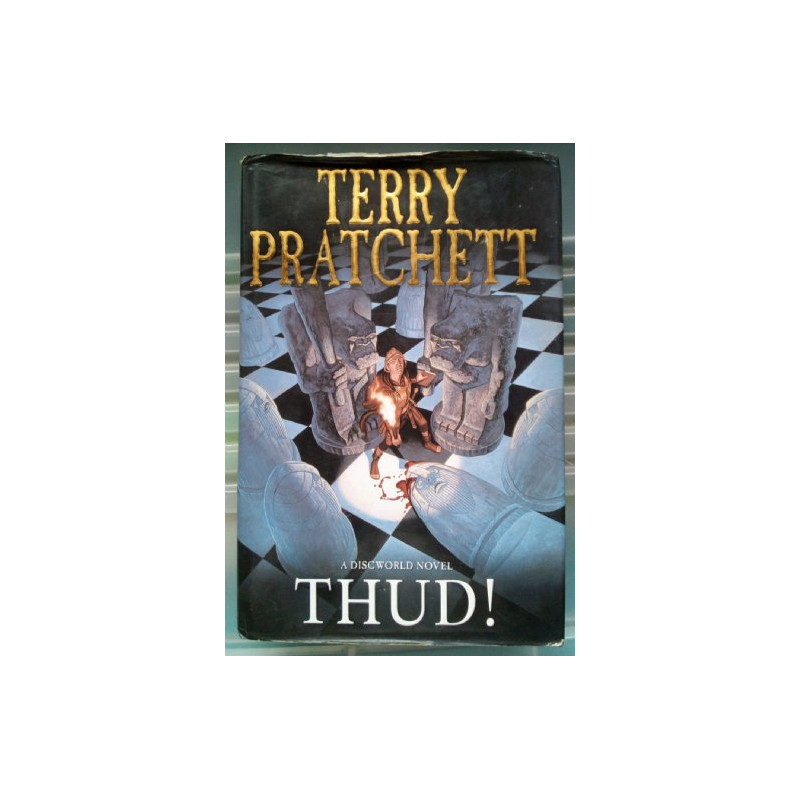  
Thud! by Terry Pratchett (HB Signed)
SIGNED. Hardbound. 1st edition, 1st printing, UK. When it comes to racial hatred and sectarian violence, the phrase 'vive la difference' is usually one of the furthest from the tip of the mob's tongue. When a whole city is poised on the very brink of anarchy, it only requires one thing to pitch it over the edge.

Delivery policy
Options presented upon check-out for 1-3 day delivery
Format: Hardbound, SIGNED

Condition: vg- condition, minor shelf wear, some light rubbing on upper portion of dustjacket.

Size: 5.75"x8.5"

Pages: 416pp, 2009 edition

Others: All defects if any are formulated into pricing. May or may not have previous store stickers. Items were inspected but may still missed writings/inscriptions.

Once, in a gods-forsaken hellhole called Koom Valley, trolls and dwarfs met in bloody combat. Centuries later, each species still views the other with simmering animosity. Lately, the influential dwarf, Grag Hamcrusher, has been fomenting unrest among Ankh-Morpork's more diminutive citizens—a volatile situation made far worse when the pint-size provocateur is discovered bashed to death . . . with a troll club lying conveniently nearby.

Commander Sam Vimes of the City Watch is aware of the importance of solving the Hamcrusher homicide without delay. (Vimes's second most-pressing responsibility, in fact, next to always being home at six p.m. sharp to read Where's My Cow? to Sam, Jr.) But more than one corpse is waiting for Vimes in the eerie, summoning darkness of a labyrinthine mine network being secretly excavated beneath Ankh-Morpork's streets. And the deadly puzzle is pulling him deep into the muck and mire of superstition, hatred, and fear—and perhaps all the way to Koom Valley itself.
Customers who bought this product also bought: