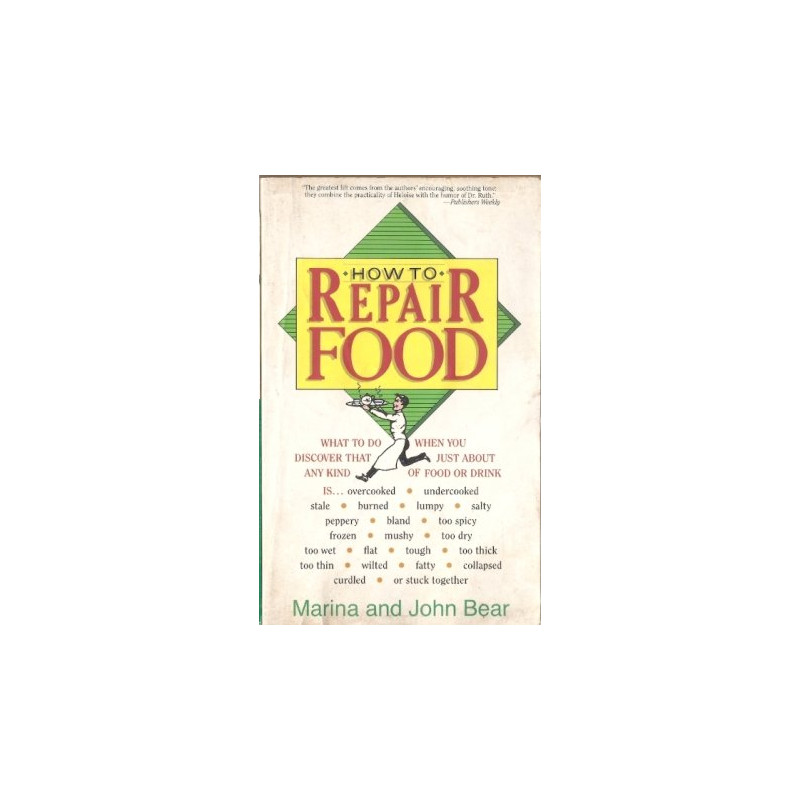  
How to Repair Food by Marina and John Bear
What to do when you discover that just about any kind of food or drink is... overcooked, undercooked, stale, burned, lumpy, salty, peppery, bland, too spicy and many more...

Delivery policy
Options presented upon check-out for 1-3 day delivery
Format: Trade Paperback

Condition: good+ mildly used condition, light browning of page edges, still a very solid copy but do not expect something like-new at all, minor shelf wear

Size: 5.25"x8.0"

Pages: 120pp, 1987 edition

Others: All defects if any are formulated into pricing

When a car breaks down you fix it. When your food breaks down you can fix it.... There are thousands of cookbooks in the world that tell you how to cook. How to Repair Food is different - it tells you how to correct mistakes, how to undo whatever it is you have done that you wish you hadn't done. Whether it's a fallen cake, salty soup, burned stew, overcooked cauliflower, or hundreds of other tragedies that can overtake even the best of cooks- this book can help.

From Abalone to Zucchini every entry is deisnged to bring an innovative resource to every kitchen, a handy first aid reference for problems with food and the tools used to prepare it.