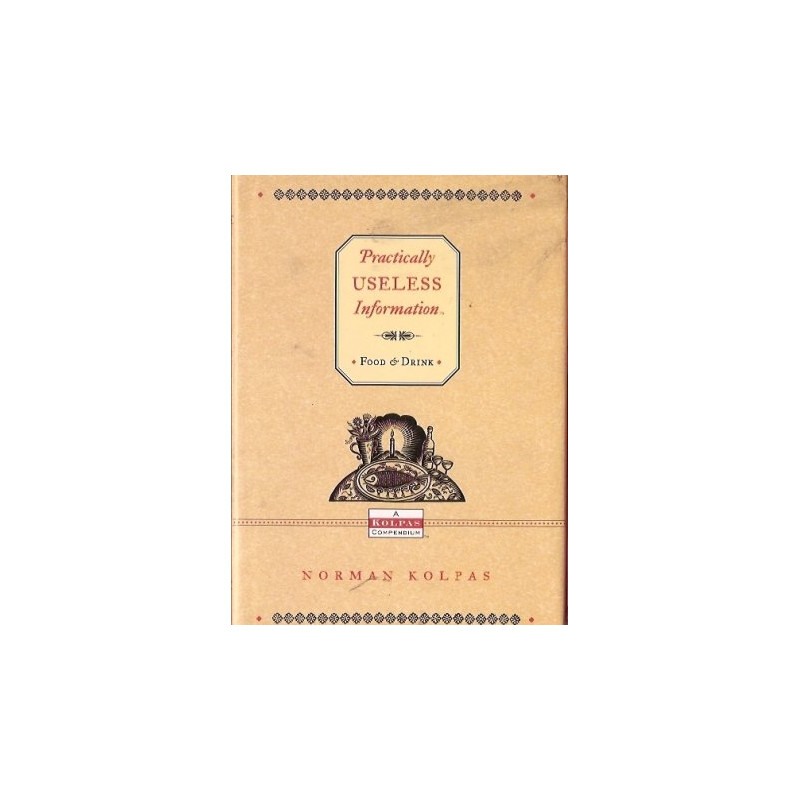  
Practically Useless Information: Food & Drink by Norman Kolpas (HB)
Hardbound. From the introduction, why not create a book for food and drink enthusiasts composed exclusively of sidebar material, doing away with all that pesky text you normally try and fail to read, continuously and in order, from front cover to last?

Delivery policy
Options presented upon check-out for 1-3 day delivery
Format: Hardbound

Condition: vg- condition, minor shelf wear, light aging due to extended storage

Size: 5.25"x8.0"

Pages: 206pp, 1992 edition

Others: All defects if any are formulated into pricing

From the introduction:

That's the genesis for the volume you now hold in your hands. I've devised it with one simple goal in mind: to be a book on food and drink that you don't really need, but one you'll find virtually impossible to put down.

The contents are entirely arbitrary, dictated solely by the kind of oddball stuff that fascinates me and is likely to draw my attention. Flip through these paes and you'll find what I hope you'll think of as a delightful hodgepodge assortment of culinary and potable information: * Lists of unusual frozen dessert flavors for sale in Japan (page 123) and others developed in the United States for special offers on April Fool's Day (page 116) * Detailed instructions on how to slice a banna without removing or cutting its peel (page 48) * Glossaries of classic American diner slang (pages 92-94) and food terms from Britain's cockney rhyming slang (pages 42-45) * A guide to some well-known dishes named after famous people (page 130-131).

You get the idea: It's the sort of useless information that so many people really can't live without.