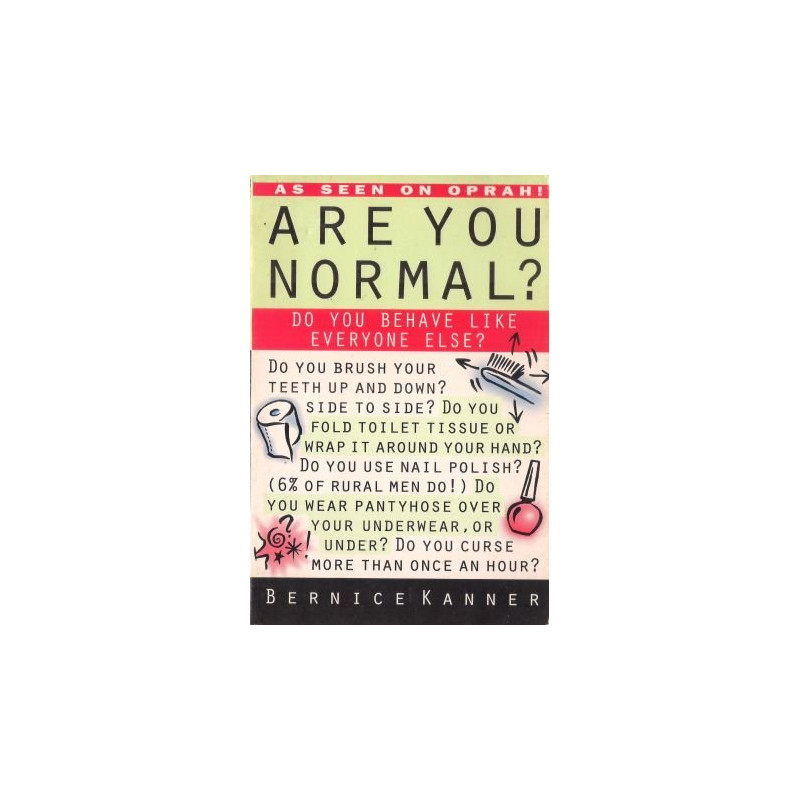  
Are You Normal? Do You Behave Like Everyone Else? by Bernice Kanner
As seen on Oprah! Do you brush your teeth up and down? side to side? Do you fold toilet tissue or wrap it around your hand? Do you use nail polish? (6% of rural men do!) Do you wear pantyhose over your underwear, or under? Do you curse more than once an hour?

Delivery policy
Options presented upon check-out for 1-3 day delivery
Format: Trade paperback

Condition: vg- condition, minor shelf wear

Size: 5.25"x8.0"

Pages: 122pp, 1995 edition

Others: All defects if any are formulated into pricing. May or may not have previous store stickers. Items were inspected but may still miss writings/inscriptions.

From sea to shining sea, Americans are remarkably alike, incredibly different, and just plain strange. In this clever, fun and fascinating peek into the private lives of real Americans, columnist Bernice Kanner shares a delicious slice of American pie with humorous facts like:

- of the half of us who have pets at home, 45.5% allow them in the room during sex.
- one out of every four ice cream orders is vanilla; only one in nine is for chocolate.
- four out of ten of us admit we've been so mad we've hurled footwear at another person.
- 60% of men spit in public.
- One in ten people say they have seen a ghost.
- almost one quarter of us regularly check ourselves out in store windows and mirrors.
- 7 out of 100 Americans have flossed their teeth with their hair.
- over 27% of people skip ahead to find out what will happen in a book before they finish it.