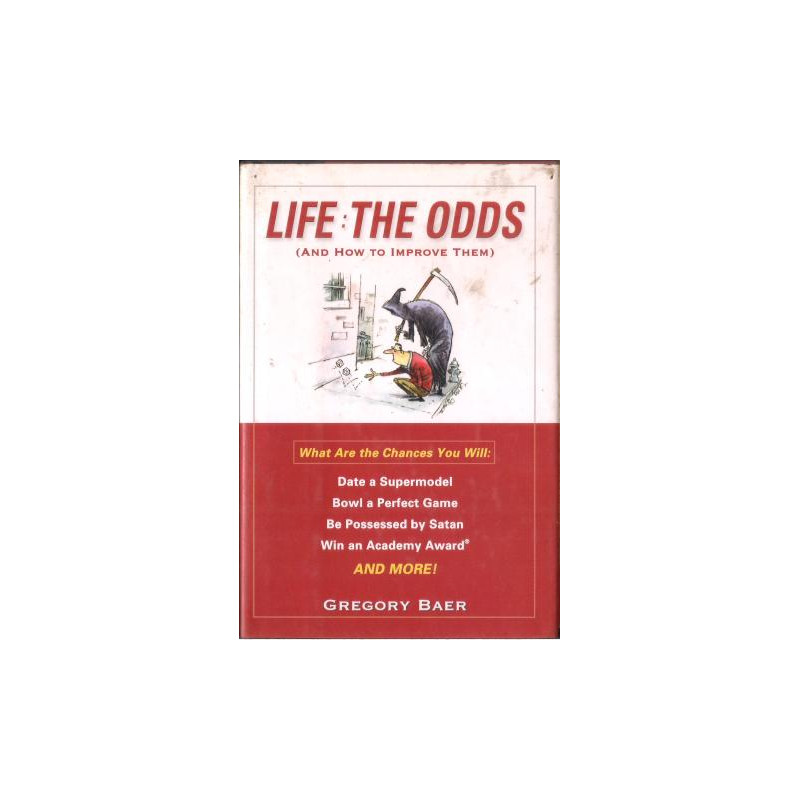  
Life: the Odds, and how to improve your chances...
Life: The Odds, and how to improve your chances of: marrying a millionaire, winning an oscar, being elected President, being possessed by Satan, etc. By Gregory Baer.

Delivery policy
Options presented upon check-out for 1-3 day delivery
Format: Hardbound

Condition: vg-/good+ condition, minor shelf/storage wear, edge wear

Size: 5.25"x7.25"

Pages: 252pp, 2004 edition

Most of us have wondered about the likelihood of striking it rich, being audited by the IRS, or living to be a hundred years old. But how many of us have actually sat down and calculated the chances that we could marry a millionaire? Or that the earth could be destroyed by an asteroid?

Now, with Gregory Baer's Life: The Odds, you can find out the answers to these questions and more. Baer not only gives startling statistics, but also advice for nudging fate in your favor. Discover your chances of:

- Catching a ball at a Major League baseball game
- being canonized as a saint
- surviving a train crash
- getting away with murder
- reaching the summit of Mount Everest
- dating a Supermodel
- being poorly endowed (or romantically linked to someone poorly endowed)
- writing a best-selling book
- dying by accident
- being struck by lightning
- hitting a hole in one
- bowling a perfect game
- getting hemorrhoids
- being killed by your doctor
- beating cancer
- being Six Degrees of Separation from Kevin Bacon (or anyone else)
- sharing a birthday
- giving birth to a girl
- starting a successful small business
- guessing heads or tails
... and many more!

Life: The Odds is the lowdown on life's most intriguing possibilities.