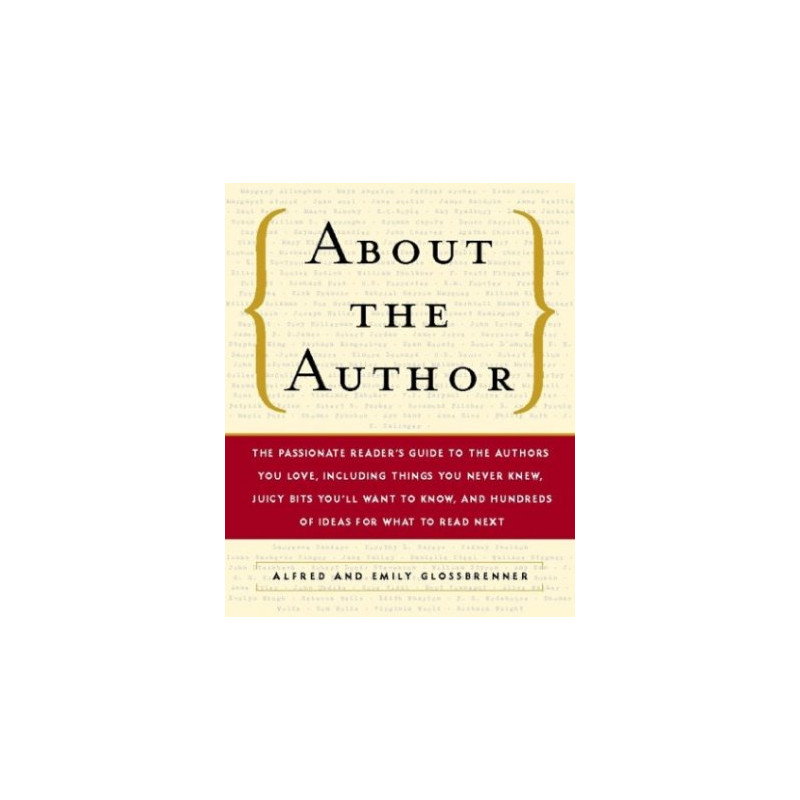  
About the Author by Alfred and Emily Glossbrenner
The Passionate Reader's Guide to the authors you love, including things you never knew, juicy bits you'll want to know, and hundreds of ideas for what to read next.

Delivery policy
Options presented upon check-out for 1-3 day delivery
Format: Trade Paperback

Condition: good+ condition, minor shelf wear, light spotting due to aging

Size: 7.5"x9.25"

Pages: 390pp, 2000 edition

Others: All defects if any are formulated into pricing

A trivia guide for passionate readers, About the Author offers insider information on America's favorite writers, from Margery Allingham to Evelyn Waugh, from Michael Crichton to Charles Dickens. It gives background on the lives of the writers, what they did before becoming writers, facts about their fans, quirky tidbits, and recommendations for what to read next.
Chosen for their popularity, their staying power, and the intensity of their following, this amazing range of writers will appeal to all types of readers. Find out what movies and television shows were adapted from their novels, how they decided to become writers, what the Nobel Prize for literature did for some, and what being an Oprah selection did for others.
In addition, About the Author includes lists galore: from Pulitzers to fan clubs, from bestseller lists to book conventions, from reading groups to CD-ROMs. About the Author offers an engaging feast of information that any book lover will find hard to put down. Hailed as "The Great Communicator" by the New York Times, Alfred Glossbrenner is a freelance writer and author of some forty books on personal computers and other topics. Emily Glossbrenner has written numerous books and has just completed Search Engines for the World Wide Web. The authors live in Bucks County, Pennsylvania. Cader Books has created and produced more than 170 books. Among Cader bestsellers are Brush Up Your Shakespeare! and The Book of Questions: Love and Sex.