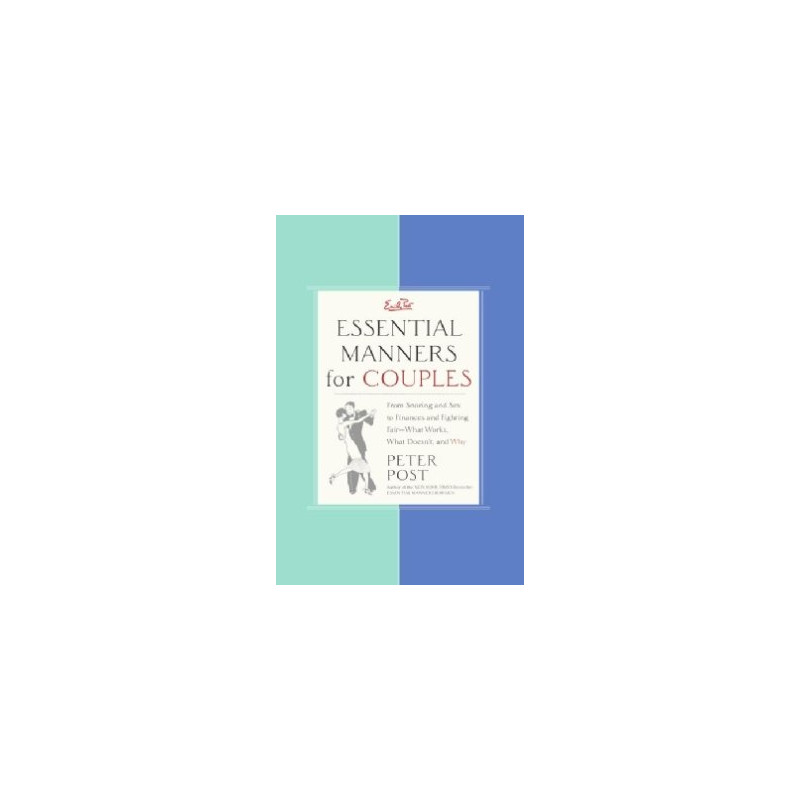  
Essential Manners for Couples by Peter Post (Hardbound)
Hardbound. From the man who closed the lid forever on the "toilet seat debate" in the New York Times bestseller Essential Manners for Men comes the follow-up book that paves the way for couples everywhere to fix relationship problems before they start.

Delivery policy
Options presented upon check-out for 1-3 day delivery
Format: Hardbound

Condition: vg- condition, minor shelf wear, originally unread overstock copy but due to extended storage, some spottings on page edges

Size: 5.25"x8.0"

Pages: 272pp, 2005 edition

Others: All defects if any are formulated into pricing

Peter Post offers the secrets to a long and happy marriage or partnership—without psychoanalysis or prescription medication. The good news: often just a few simple words or actions can mend a rift. Essential Manners for Couples reveals how easy it can be to keep the spark in your relationship.

With self-deprecating humor, clarity, and wit, Peter recounts couples' most mischievous manners foibles (his own included). Essential Manners for Couples is based on Emily Post Institute surveys, Peter's years of fielding thousands of etiquette questions, popular demand from couples attending his national lectures and workshops, and his experience as a husband and father.

Peter looks at couples' private lives and public lives, revealing the common "flashpoints"—the places, situations, and times when inconsiderate behavior is most likely to invade your blissful coupledom. He offers "etiquette imperatives"—simple truths and concise nuggets of advice not to be ignored, including:

Permissive flirting: How to define parameters and enjoy verbal combat with the opposite sex.
The "Chore I.Q." test—are you really divvying up the workload fairly?
When you hate her friends: socializing with the enemy.
Enter children: Good parents still spend time together as a couple.
Bedroom etiquette—getting beyond the headache excuse.
Interactions with in-laws—smooth merge or crash and burn?
Where to go for the holidays: surviving family visits and how to say "no."
Balancing life with your other significant other—your work ... and much more.

Essential Manners for Couples is a must-have resource for the couple who wants to celebrate their union and strengthen it. As Peter Post says, "By using the principles of etiquette, couples can avoid many of the potholes on the road of their shared life, and the ones they do hit are smaller and more manageable." With this book in hand, you'll enhance your relationship, head off hostilities, and have fun doing it.