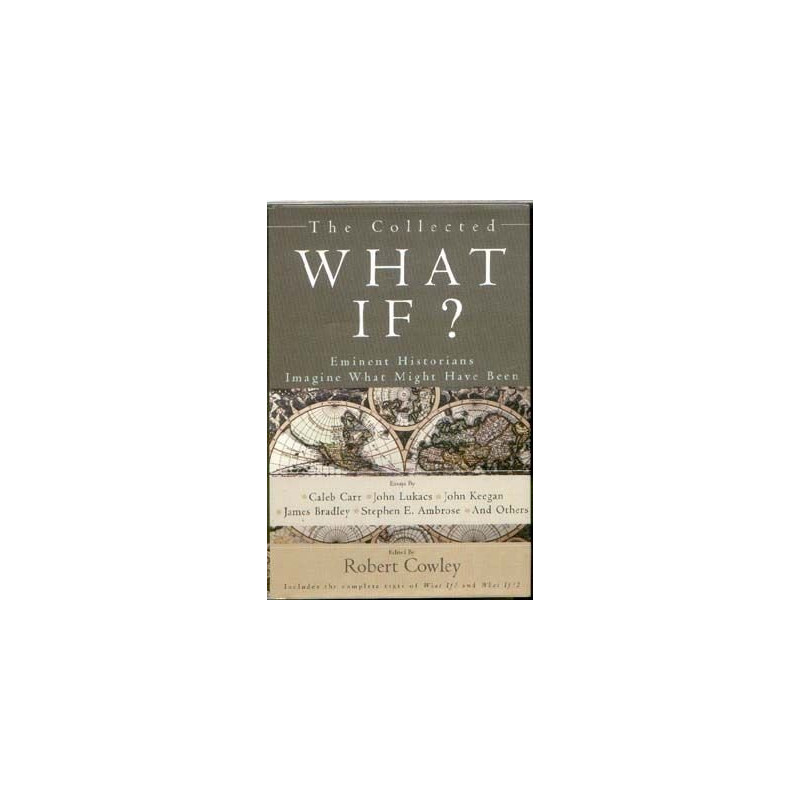  
The Collected What If? (Hardbound 2-in-1)
Includes the complete texts of What If? and What If? 2. The Collected What If?: Eminent Historians Imagine What Might Have Been. Edited by Robert Cowley, Essays by Caleb Carr, John Lukacs, John Keegan, James Bradley, Stephen E. Ambrose and Others.

Delivery policy
Options presented upon check-out for 1-3 day delivery
Format: Hardbound

Condition: vg- condition, minor shelf wear, unread overstock copy

Pages: 890pp

What If? (Military Historians Imagine What Might Have Been). Essays by Stephen E. Ambrose, John Keegan, David McCullough, James M. McPherson and others. The world's foremost military historians imagine what might have been. Counterfactuals- What-If Scenarios -fueled countless bull sessions in smoke-filled dorm rooms in the 1960s. What if Sitting Bull had had a machine gun at Little Big Horn? What if Attila the Hun had had a time machine? What if Columbus had landed in India after all? Some of those dorm-room speculators grew up to be historians, and their generation (along with a few younger and older scholars) makes a strong showing in this anthology of essays, in which the what-ifs are substantially more plausible. What if Hitler had not attacked Russia when he did? He might have moved into the Middle East and secured the oil supplies the Third Reich so badly needed, helping it retain its power in Europe. What if D-Day had been a failure? The Soviet Union might have controlled all of Europe. What if Sennacherib had pressed the siege of Jerusalem in 701 B.C.? Then the nascent, monotheistic Jewish religion might never have taken hold among the people of Judah--and the daughter religions of Christianity and Islam would never have been born.

So suggest some of the many first-rate contributors to this collection, which grew from a special issue of MHQ: The Quarterly Journal of Military History. One of them is classicist Josiah Ober, who suggests that if Alexander the Great had died at the age of 21 instead of 32, Greece would have been swallowed up by Persia and Rome, and the modern Western world would have a much different sensibility--and probably little idea of democratic government. Still other contributors are Stephen E. Ambrose, Caleb Carr, John Keegan, David McCullough, and James McPherson, who examine a range of scenarios populated by dozens of historical figures, including Sir Walter Raleigh, Chiang Kai-shek, Robert E. Lee, Benito Mussolini, and Themistocles. The result is a fascinating exercise in historical speculation, one that emphasizes the importance of accident and of roads not taken in the evolution of human societies across time.

============

What If? 2 Eminent Historians Imagine What Might Have Been. Many armchair historians have spent hours daydreaming of what might have been if some turning point in history had gone another way. The appeal of the What If? books is that editor Robert Cowley gets professional historians to concentrate on these imaginative questions. The first volume focused entirely on military matters; What If? 2 leans heavily but not exclusively in that direction. Victor Davis Hanson wonders about the consequences for Western philosophy if Socrates had died in battle, Thomas Fleming ponders a Napoleonic invasion of North America, and Caleb Carr argues the Second World War lasted longer than it should have because George Patton's superiors restrained their energetic general. More than two dozen contributors offer bold speculation: If the Chinese had committed themselves to ocean exploration, asks Theodore F. Cook Jr., might they have discovered the New World and even prevented "the worst horrors of the Atlantic Slave Trade [by halting] Portuguese expansion along the African coast at this early date?" Other times they are pleasantly modest: In one of the book's best sections, John Lukacs describes the fantasy of Teddy Roosevelt defeating Woodrow Wilson in the 1912 election--and decides the long- term effects would not have been great. Like its predecessor, What If? 2 is delicious mind candy for readers willing to believe there's nothing inevitable about what has come before us.