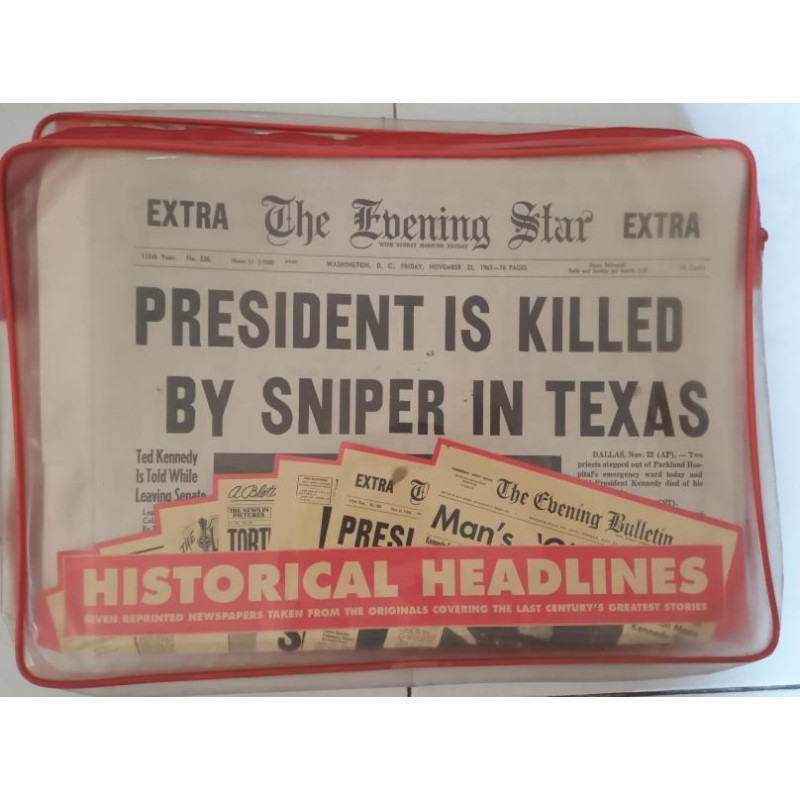  
Historical Headlines: Seven Reprinted Newspapers...
Taken from the originals covering last century's greatest stories. Excellent companion to your personal library.

Delivery policy
Options presented upon check-out for 1-3 day delivery
Size of envelope is 18.0"x13.0". Envelope may have light tear, wrinkling due to transit/storage. All reprinted newspapers inside are complete and in very good condition. Unopened (only for inspection).

This set contains 7 historical replica newspapers covering some of the major events from last century. Each one contains a faithful representation of the original and the set contains:

1. Frank Leslie's Illustrated, 1865, covering the assassination of Abraham Lincoln.
2. The Chicago Evening Post Extra, 1871, reports on "Chicago in Flames".
3. The Illustrated Christian Weekly, 1886, celebrating the Statue of Liberty's completion.
4. The Boston Advertiser, 1929, detailing the Valentine's Day massacre.
5. The Daily Record, 1935, covers the death of Dutch Schultz in a gang shooting.
6. The Evening Star, 1963, covering the assassination of President Kennedy.
7. The Evening Bulletin, 1969, reporting on the Apollo 11 lunar landing.

NOTE: Shipping for item might cost extra - to around Php150.00 depends on destination and packaging.