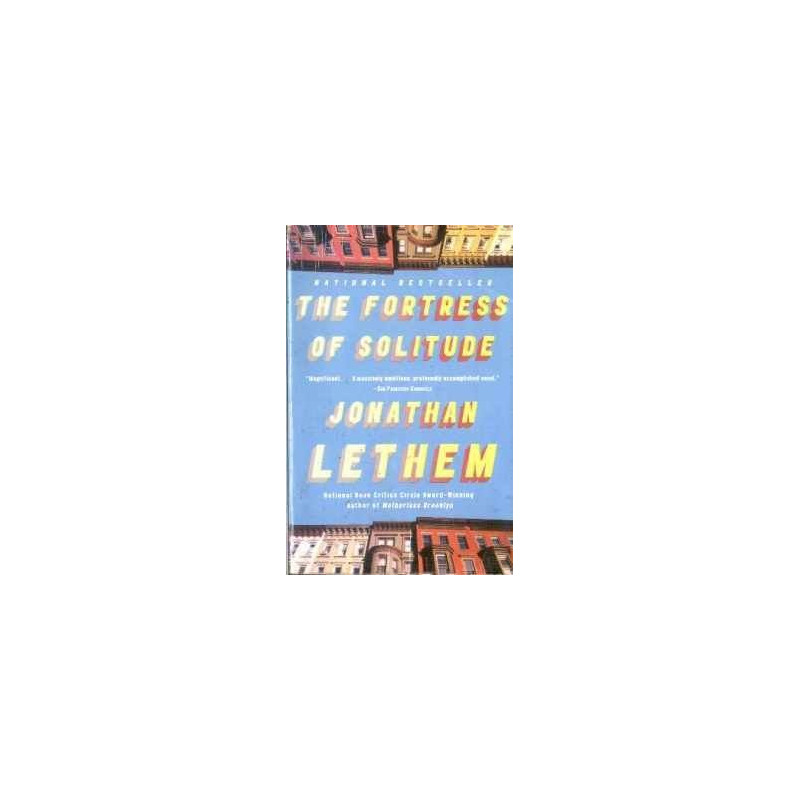  
The Fortress of Solitude by Jonathan Lethem
The Fortress of Solitude is the first great urban coming-of-age novel to appear in years..

Delivery policy
Options presented upon check-out for 1-3 day delivery
Format: Trade paperback

Condition: vg- condition, minor shelf wear

Size: 5.25"x8.0"

Pages: 510pp

This is the story of two boys, Dylan Ebdus and Mingus Rude. They are friends and neighbors, but because Dylan is white and Mingus is black, their friendship is not simple. This is the story of their Brooklyn neighborhood, w/c is almost exclusively black and Latino despite the first whispers of something that will become known as "gentrification."

This is the story of 1970s America, a time when the most simple human decisions- w/c music to listen to, whether to speak to the kid in the seat next to you, whether to give up your lunch money- are laden with potential political, social and racial disaster. This is the story of 1990s America, when no one cared anymore.

This is the story of punk, that easy white rebellion, and crack, that monstrous plauge. This is the story of the loneliness of the avant-garde artist and the exuberance of the graffiti artist. This is the story of what would happen if two teenaged boys obsessed w/ comic-book heroes actually had superpowers: they would screw up their lives.

This is the story of joyous afternoons of stickball and dreaded years of schoolyard extortion. This is the story of belonging to a society that doesn't accept you. This is the story of prison and of college, of Brooklyn and Berkeley, of soul and rap, of murder and redemption.

This is the story Jonathan Lethem was born to tell. This is The Fortress of Solitude.