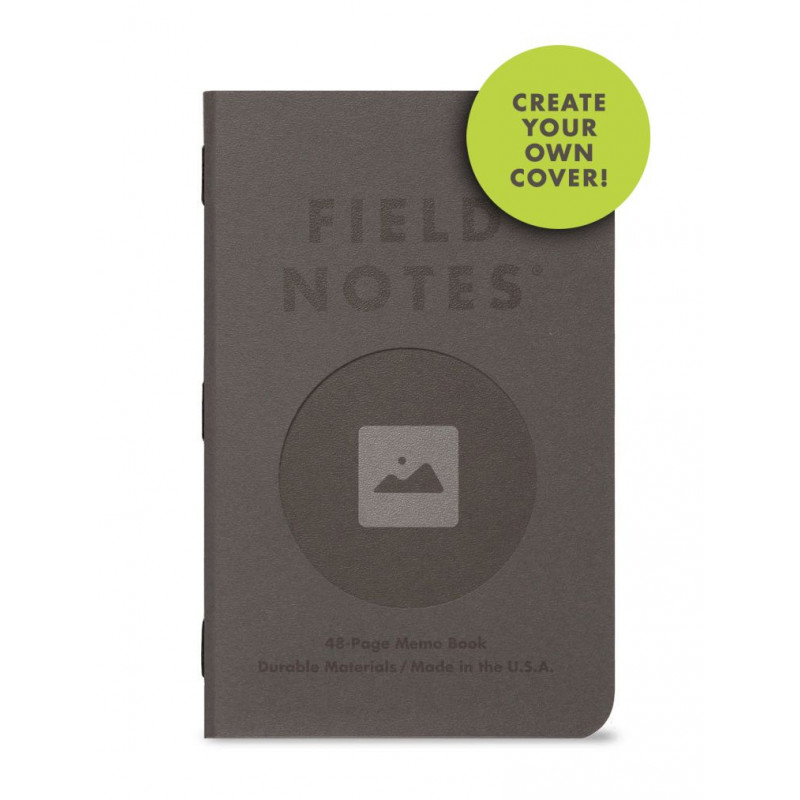  
Field Notes Vignette (SPRING 2020)
3-pack. Graph Paper 3.5" x  5.5" 48 Pages.

Delivery policy
Options presented upon check-out for 1-3 day delivery
CONDITION: BRAND NEW SEALED, 3-pack
Graph Paper 3.5" x 5.5" 48 Pages
The "theme" of these books is completely up to you. Maybe it's a photo of your crew, your kids, or your pup? Possibly a screen grab from your favorite movie, cartoon, or tv show? Will it be a masterpiece by a famous artist, or one by your not-yet-famous toddler? A team logo, vacation selfie, literary hero, pop star... or just that sweet photo you took of the full moon. Yeah, that'd work great.

Make of These What You Will

Two stippled "Charcoal Gray" books and one super-bright "Terra Green" book make up each 3-Pack. We've also included a set of Field Notes-themed insert cards for you to play around with, to see how the "Vignette" personalization system works. But after you try those out, get to work on your own. Because that's what this release is really all about.

Vig App Phone Pair X

To that end, there's a tool in each pack to frame and crop existing images (or fabric samples, maps, anything flat, really) to the proper size. We've also made a simple web app to shoot, adapt, share, and print your own personal digital photos, as "vignettes."

SPECIFICATIONS:
01. Proudly printed and bound by the good people of eDOC Communications, Mount Prospect, Ill. and die-cut by Platinum Converting, Itasca, Ill.
02. Covers: Neenah Classic Textures "Charcoal" Stipple and Astrobrights "Terra Green" 80#C with "Silver Emulsion" and "Neutral Gray" soy-based Toyo inks.
03. Innards: Finch Paper Opaque Smooth 60#T "Bright White," with a fine, 1-color application of "Silver Emulsion" soy-based Toyo ink.
04. Printed on a Heidelberg Speedmaster XL 105 40" 6-color printing press.
05. Bound with a Heidelberg Stitchmaster ST 270 5-pocket saddle stitcher with cover feeder/scorer and Rima RS 10S in-line stacker, with appreciation to Samuel Slocum, George W. McGill, and William J. Brown, the "Founding Fathers of the Staple."
06. Corners rounded to 3/8" (9.5mm) radius with a Challenge DCM double round-corner machine.
07. Graph grid: 3/16" × 3/16" (4.7mm × 4.7mm).
08. Memo book dimensions are 3-1/2" × 5-1/2" (89mm × 140mm).
09. FIELD NOTES uses only the Futura typeface family (Paul Renner, 1927) in its materials.
10. All FIELD NOTES memo books are printed and manufactured in the U.S.A.
11. FNC-46 UPC: 858493003899