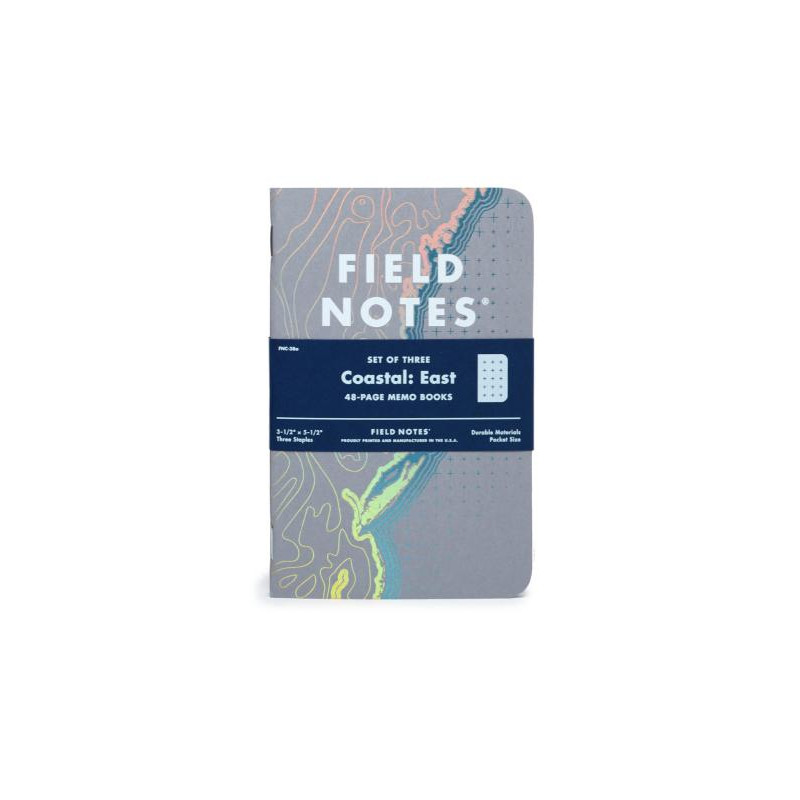  
Field Notes: Coastal East (Spring 2018)
FOIL-STAMPED COASTLINES. Reticle Grid 3.5" x 5.5", 48 Pages, 3-pack. Field Notes Spring 2018 quarterly limited edition (our 38th!) features two 3-Packs of Memo Books, separated by 2,800 miles. The "Coastal" Edition is a celebration of the left and right edges of the U.S.A..

Delivery policy
Options presented upon check-out for 1-3 day delivery
Condition: Brand new, sealed.
Each Coastal Pack displays an American coastline mapped across three memo books in two bright holographic foils, stamped and debossed into Neenah Classic Crest "Cadet Gray" 100# cover stock.
"Coastal: East" reveals the Atlantic coast from Maine to Florida.
You might not find these maps useful as a navigational aid, but we think you'll dig the organic shapes and topography they depict. The thing we love most about this edition is also why it's difficult to photograph. Depending on the the angle of the light, the two holographic foils can appear to be almost any color, although they start as a deep gold on the shore and a rich, aqua blue in the water.

The "ocean" reticle pattern on the cover is repeated on the body pages, printed with a split fountain of ink. The reticles on some pages are blue, some pages are green, and most are somewhere in between. The body paper is our standard Finch Opaque Smooth 60#T.

The "Coastal" Edition will make a fine companion for any spring adventure, no matter which season or what coast you decide to explore.

SPECIFICATIONS:

01. Proudly printed by the good people of eDOC Communications, Mount Prospect, Ill.
02. Cover: Neenah Classic Crest "Cadet Gray" 100#C, printed with white digital ink and stamped with Crown foils 210F-107 and 563F-107 by Nu Wave Die Cutting & Finishing, Chicago, Ill.
03. Innards: Finch Paper Opaque Smooth 60#T "Bright White," with a split-fountain application of "Coastal Blue" and "Coastal Green" soy-based Saphira inks.
04. Cover printed on a Hewlett-Packard Indigo 12000 29" digital press; Innards printed on a Heidelberg Speedmaster XL 105 40" 6-color offset press.
05. Bound with a Heidelberg Stitchmaster ST 270 5-pocket saddle stitcher with cover feeder/scorer & Rima RS 10S in-line stacker, with appreciation to Samuel Slocum, George W. McGill, and William J. Brown, the "Founding Fathers of the Staple."
06. Corners precisely rounded to a 3/8" (9.5mm) radius with a Challenge SCM double round-corner machine.
07. Reticle grid: 3/16" x 3/16" (4.7mm x 4.7mm).
08. Memo book dimensions are 3-1/2" x 5-1/2" (89mm x 140mm).
09. FIELD NOTES uses only the Futura typeface family (Paul Renner, 1927) in its materials.
10. All FIELD NOTES memo books are printed and manufactured in the U.S.A.
11. UPCs: Coastal East 858493003691, Coastal West 858493003707