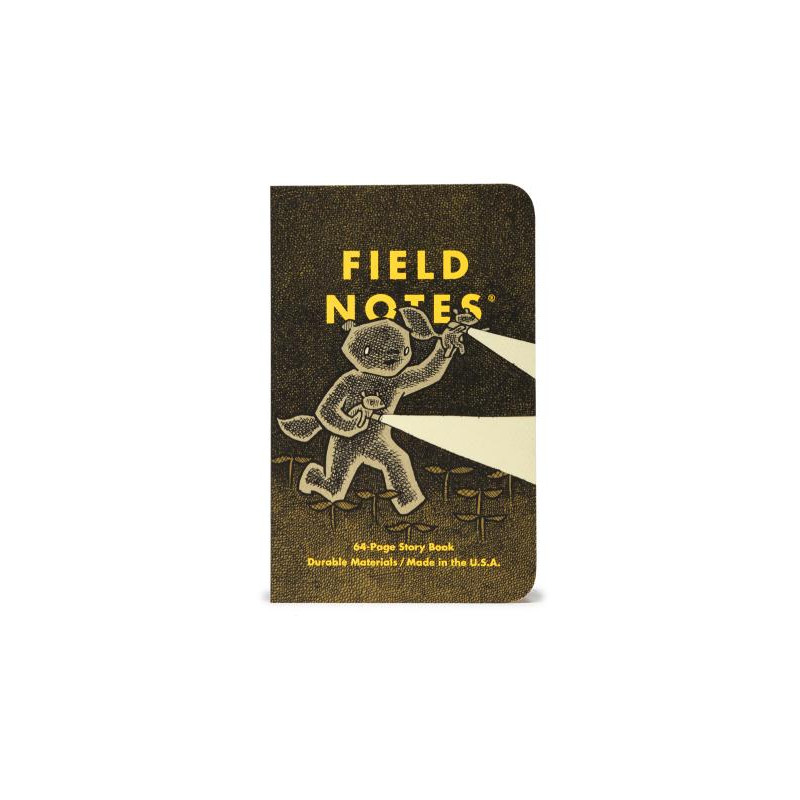  
Field Notes: Haxley (Story Book & Sketch Book)
An Illustrated Story Book & Haxley: A Sketch Book, Both 64 Pages.



Delivery policy
Options presented upon check-out for 1-3 day delivery
CONDITION: BRAND NEW.
Chicago-area illustrator/postermaker Jay Ryan is an old friend. He's a craftsman with great visual style and more than his fair share of imagination, and you can see tons of his work at The Bird Machine. For years we've been looking for a way to collaborate with Jay for Field Notes.
During October, Jay set himself a goal of creating one small ink illustration each day. These drawings revealed a story about a bear and his squirrel neighbors. We followed Jay's progress on Instagram, and found the drawings irresistible. We knew that they'd look great in a special Field Notes edition. Jay agreed. He revealed the bear's name is Haxley, and that this story is sort of a preamble to a larger project that he's been kicking around for years. We can't wait to see that.
The "Haxley" edition includes two 64-page books. The first is a "Story Book," featuring ruled pages alongside Jay's 31 black-and-white drawings. You can expand on Haxley's adventure, or, just maybe, recount a completely different journey, one you make yourself.

The other book in the 2-Pack is a "Sketch Book" with blank pages. We trust you can find a way to fill that one up.
Both books feature Neenah Royal Sundance Felt "Warm White" covers with four spot colors and a fifth-glow-in-the-dark ink, illuminating the flashlight beams. They're PUR-bound with Domtar Cougar smooth 70# "Natural" text paper inside.
SPECIFICATIONS:
01. Proudly printed by the good people of eDOC Communications, Mount Prospect, Ill.
02. Cover: Neenah Royal Sundance Felt 100#C "Warm White," with a thick, brute force application of four soy-based Saphira inks.
03. Innards: Domtar Cougar 70#T "Natural," with a fine, 3-color application of soy-based Saphira inks.
04. Cover and innards printed on a Heidelberg Speedmaster XL 105 40" 6-color press.
05. Glow-in-the-dark ink screen-printed at H&H Graphics, Vernon Hills, Ill.
06. Bound by Specialty Finishing Group, Elk Grove Village, Ill., with the Wohlenberg Quickbinder PUR system with Henkel TechnoMelt PUR 3365 and GA 007A glues.
07. Corners rounded to a 3/8" (9.5mm) radius with a Challenge SCM corner-rounder.
08. Ruled lines ("Story Book" only): approx. 1/4" (6.4mm). ("Sketch Book" is blank)
09. Memo book dimensions are 3–1/2"× 5–1/2" (89mm × 140mm).
10. Characters and images herein are the property of THE BIRD MACHINE, INC.
11. FIELD NOTES uses only the Futura typeface family (Paul Renner, 1927) in its materials.
12. All FIELD NOTES memo books are printed and manufactured in the U.S.A.
13. UPC: 58493003653
Customers who bought this product also bought: