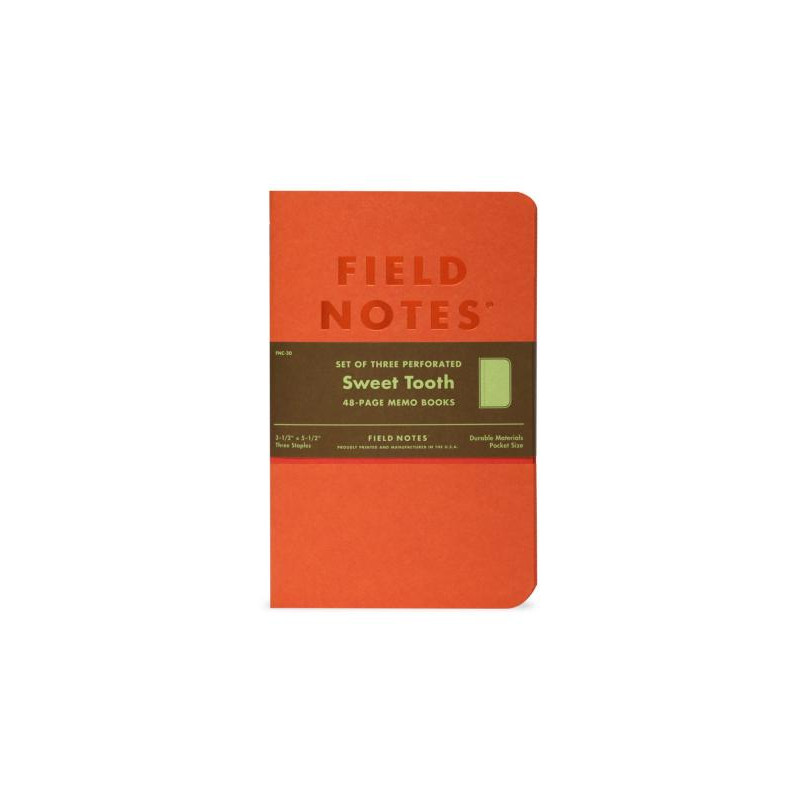  
Field Notes: Sweet Tooth (Spring 2016)
FIELD NOTES 30TH QUARTERLY EDITION. CANDY-COLORED. Brighten up your Spring with our candy-colored 30th Quarterly Edition, Sweet Tooth. Each book is a solid block of bright color all the way through, with a Field Notes first: perforated pages!

Delivery policy
Options presented upon check-out for 1-3 day delivery
Condition: Brand new, sealed

Set of 3. Each book measures 3-1/2" wide by 5-1/2" tall.


The Sweet Tooth edition features French Paper's Pop-Tone line "Blu-Raspberry," "Banana Split," and "Tangy Orange" for both the 100-lb covers and extra-beefy 70-lb text pages. The covers are stamped in matching shiny metallic foils from Crown Roll Leaf Inc.
The body pages are plain, and perforated just the right amount. Not so much that you'll notice it while using the books, but just enough so that, with a quick fold, the pages come out neat and clean. The books are bound with black staples.


All Sweet Tooth 3-Packs feature the same three colors, but we mixed up the stack order just to keep things interesting.


SPECIFICATIONS:


01. Proudly printed by the good people of eDOC Communications, Mount Prospect, Ill.
02. Covers: French Pop-Tone 100#C "Blu Raspberry," "Banana Split," and "Tangy Orange," stamped with matching Crown Roll Leaf, Inc. series BW88 metallic foilson a Barry clamshell foil-stamper by Nu Wave Die Cutting & Finishing, Chicago, Ill.
03. Innards: French Pop-Tone 70#T "Blu Raspberry," "Banana Split," and "Tangy Orange" perforated on press with the CITO RSP In-Line Finishing System.
04. Printed and perforated on a Heidelberg Speedmaster XL 105 40"6-color press.
05. Bound with a Heidelberg Stitchmaster ST 270 5-pocket saddle stitcher with cover feeder/scorer & Rima RS 10S in-line stacker, with appreciation to Samuel Slocum, George W. McGill, and William J. Brown­, the "Founding Fathers of the Staple."
06. Corners precisely rounded to a 3/8" (9.5mm) radius with a Challenge SCM double round-corner machine.
07. Body pages intentionally left blank, a COLORS first.
08. Memo book dimensions are 3â€"1/2"× 5â€"1/2" (89mm × 140mm).
09. Field Notes uses only the Futura typeface family (Paul Renner, 1927) in its materials.
10. All Field Notes memo books are printed and manufactured in the U.S.A.
11. UPC 858493003370