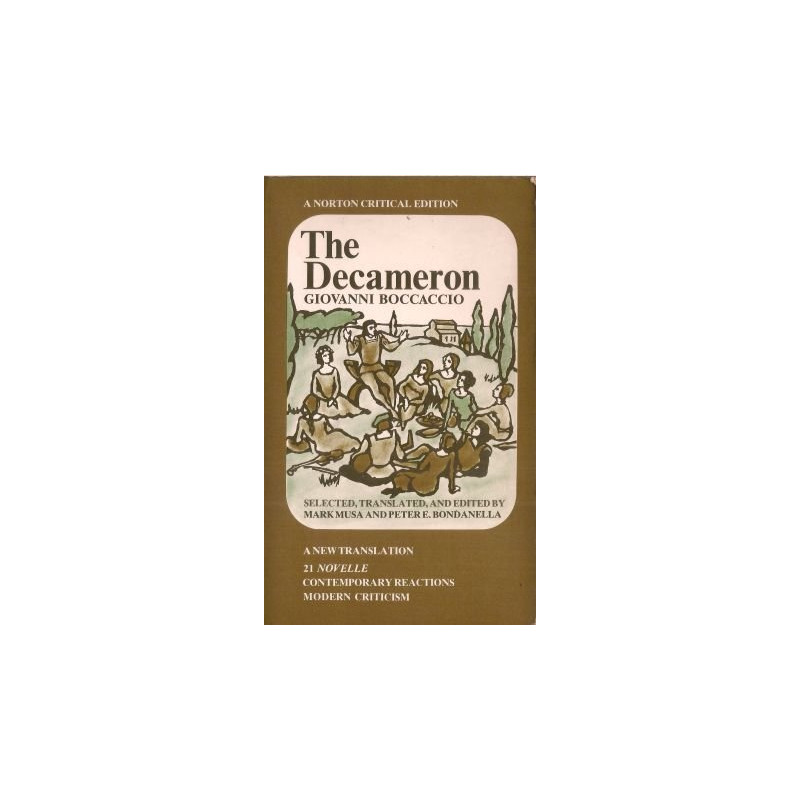  
The Decameron by Giovanni Boccaccio (A Norton Critical Edition)
Selected, translated and edited by Mark Musa and Peter E. Bondanella. A New Translation. 21 Novelle. Contemporary Reactions. Modern Criticism.

Delivery policy
Options presented upon check-out for 1-3 day delivery
Format: Trade paperback

Condition: vg- condition, minor shelf wear

Size: 5.25"x8.0"

Pages: 332p, 1977 edition

Others: All defects if any are formulated into pricing. May or may not have previous store stickers. Items were inspected but may still miss writings/inscriptions.

This volume contains twenty-one of the hundred novelle that comprise Boccaccio's masterpiece. The stories have been chosen to represent the most notable of the author's themes and the most characteristic and influential examples of his narrative technique. All are in new translations by Mark Musa and Peter Bondanella which successfully capture Boccaccio's variations in diction and sentence structure.

The contemporary responses include Petrarch's letters to Boccaccio after copmletion of The Decameron, and the reactions of such Italian Renaissance figures as Leonardo Bruni, Filippo Villani, Giannozzo Manetti, and Ludovico Dolce, all newly translated for this edition. The modern criticism includes interpretations by Ugo Foscolo, Francesco De Sanctis, Erich Auerbach, Aldo D. Scaglione, Wayne Booth, Tzvetan Todorov, Robert J. Clements, and Marga Cottino-Jones. Thomas G. Bergin's important historical overview is published here for the first time, while Ben Lawton's study of Pier Paolo Pasolini's filming of The Decameron and a general essay by the editors were written specially for this volume.