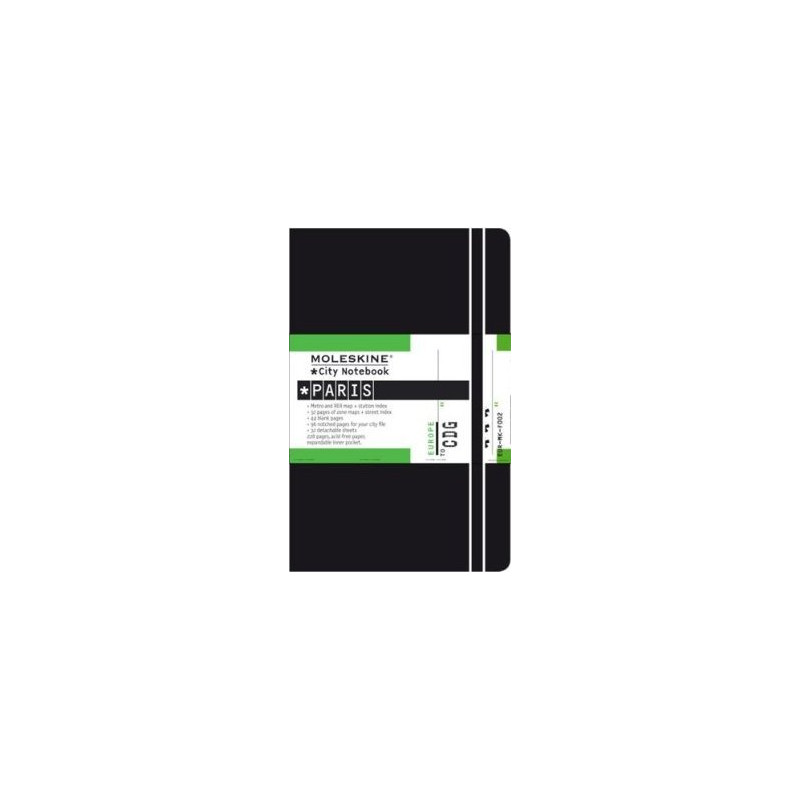  
Moleskine City Notebook: Paris
Paris, the City of Light, is a beacon for travelers searching for romance, culture, cuisine, shopping and more. Sitting on the steps of the Sacre Couer or in a café on the Seine, record your inspirations and impressions in the Moleskine City Notebook Paris.

Delivery policy
Options presented upon check-out for 1-3 day delivery
Condition: Sealed and in storage since 2009. Due to transit and extended storage, some dusting on the original plastic wrapping & portions of it might be lightly peeled off. Stocks are limited. Once they are gone, they are gone forever.
This being released before 2010 might translate to some details in need of being updated.
Sealed in Original Plastic

- Hardbound
- Metro and RER map + station index
- 32 pages of zone maps + street index
- 44 blank pages
- 96 notched pages for your city file
- 32 detachable sheets
- 228 pages, acid-free paper, expandable inner pocket.

Paris, the City of Light, is a beacon for travelers searching for romance, culture, cuisine, shopping and more. Sitting on the steps of the Sacre Couer or in a café on the Seine, record your inspirations and impressions in the Moleskine City Notebook Paris. The Key Map summarizes the overall city layout, showing the sequence and location of the 12 zone maps and the 4 maps of the city center enlargement. Map of the metro system and list of stations, plus the alphabetical street index of the zone maps. Blank pages for jotting down notes and recording your thoughts, stories and memories. 32 removable sheets for loose notes and exchanging messages. 12 translucent sticky sheets for tracing your routes and sharing itineraries. A 96-page tabbed archive for collecting everything that matters most and keeping it at your fingertips. The first 6 tabs are printed; the others await your personalization with the enclosed adhesive labels