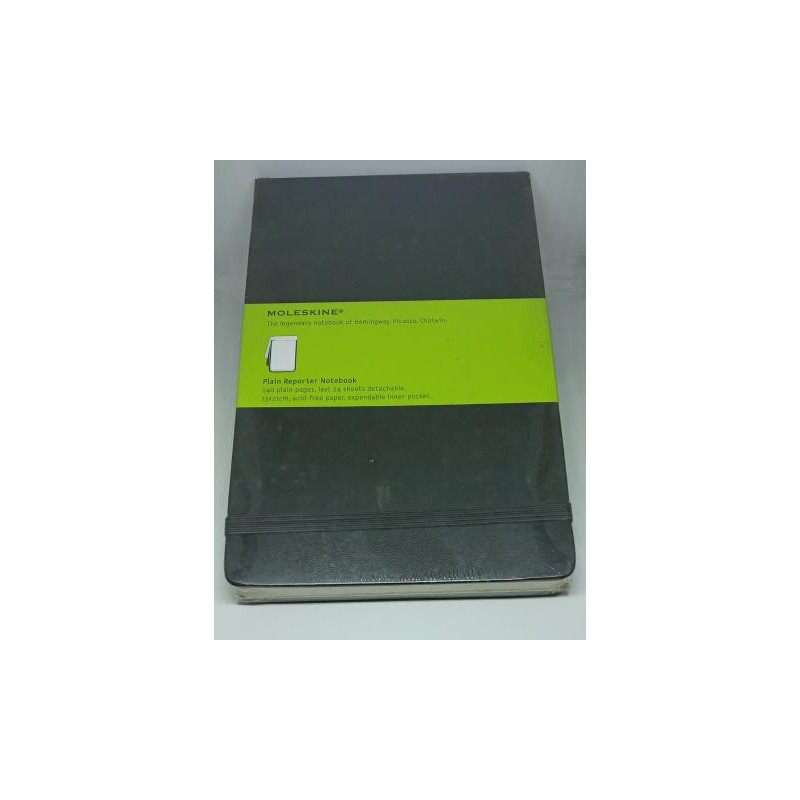  
Moleskine Large Plain Reporter Notebook (HB)
The Moleskine Plain Reporter notebook has a cover that flips opens at the top and can be used both horizontally and vertically.

Delivery policy
Options presented upon check-out for 1-3 day delivery
Condition: Sealed and in storage since 2007 from Kikkerland Moleskine. Due to transit and extended storage, some dusting on the original plastic wrapping & portions of it might be lightly peeled off. Stocks are limited. Once they are gone, they are gone forever.

IMPORTANT: Item still looks good but we cannot inspect actual inside pages due to it being wrapped. Storage staining, foxing and other possible issues might exist once you open the notebook. Not recommended as a gift. Please consider this before purchasing (updated Nov 2022).

Sealed in Original Plastic
Hardbound
240 Plain (blank) pages
5.0 x 8.25"
Acid Free Paper
Expandable Inner Pocket
Attached Page Marker Ribbon
Elastic Secure Closure Cord
Each Moleskine (mol-a-skeen'-a) has a rigid, bound oilcloth 'moleskine' cover, with a durable thread bound binding and fine Italian acid-free paper pages.

Each Moleskine notebook also has a built-in elastic closure that holds the sturdy cover closed, a ribbon placeholder, and an expandable accordion pocket in the back made of cardboard and oilcloth for holding tickets, notes and clippings.

To be a trusted companion you need to be light and durable. The thread bound binding design of a Moleskine notebook allows it to open flat, allowing one to easily write or draw from one side to the other. The Moleskine thread-bound binding produces a very durable book, as compared to other less expensive bindings (such as perfect bound or glued bindings). Combining the thread bound binding with the unique oilcloth 'moleskine' textured cover, with leather-like strength, allows it to survive abuses that other notebooks would fear. Oilcloth is a term used to describe cloth or paper that is treated with a drying oil or synthetic resin. One familiar type of oilcloth is the sturdy the traditional gingham or tavern check oilcloth tablecloths used on picnic and outdoor tables. The Moleskine book cover is made with a rigid book board backing with a durable synthetic resin surface producing a textured faux-leather cover that holds up under extreme conditions, which we believe often accompanies normal use.