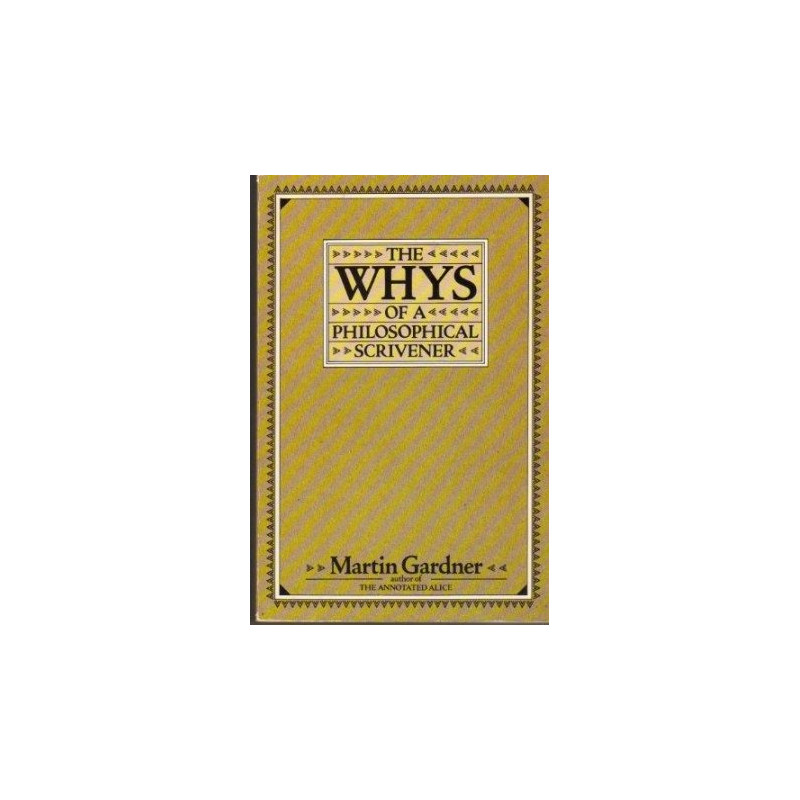  
The Whys of a Philosophical Scrivener by Martin Gardner
The Whys of a Philosophical Scrivener showcases Martin Gardner as the consummate philosopher, thinker, and great mathematician that he is. Exploring issues that range from faith to prayer to evil to immortality, and far beyond, Garnder challenges the discerning reader with fundamental questions of classical philosophy and life's greater meanings.

Delivery policy
Options presented upon check-out for 1-3 day delivery
Format: Trade Paperback

Condition: vg- condition, minor shelf wear

Size: 6.0"x9.0"

Pages: 452pp. 1983 Quill edition

Martin Gardner is the well-known author of numerous books abouve science and mathematics, as well as of The Annotated Alice and a novel of religious ideas, The Flight of Peter Fromm. In this new work, he has produced a remarkable personal confession in which he defends, with skill, humor, and erudition, his strong opinions on the fundamental questions of classical philosophy. Unlike most modern thinkers, including those he greatly admires, Gardner considers himself a theist, outside any religious tradition yet open to the possibility of immortality.

Gardner's mentors are Plato, Kant, Peirce, James, and Unamuno. you will learn why he cannot call himself a subjectivist, a pragmatist, a paranormalist, a relativist, a determinist, an anarchist, a Smithian, a Marxist, a pantheist, or an atheist. On the positive side, you will learn why he is a realist, a skeptic, a ifdeist, a democratic socialist, and an admirer of both H.G. Wells and G.K. Chesterton. You will learn why he considers Michelangelo a greater artist than Jackson Pollock, Mozart a greater composer than John Cage, and Shakespeare a greater poet than William Carlos Williams. Above all, you will learn why he finds science and life surrounded on every side by, and interfused with, vast and impenetrable mystery.