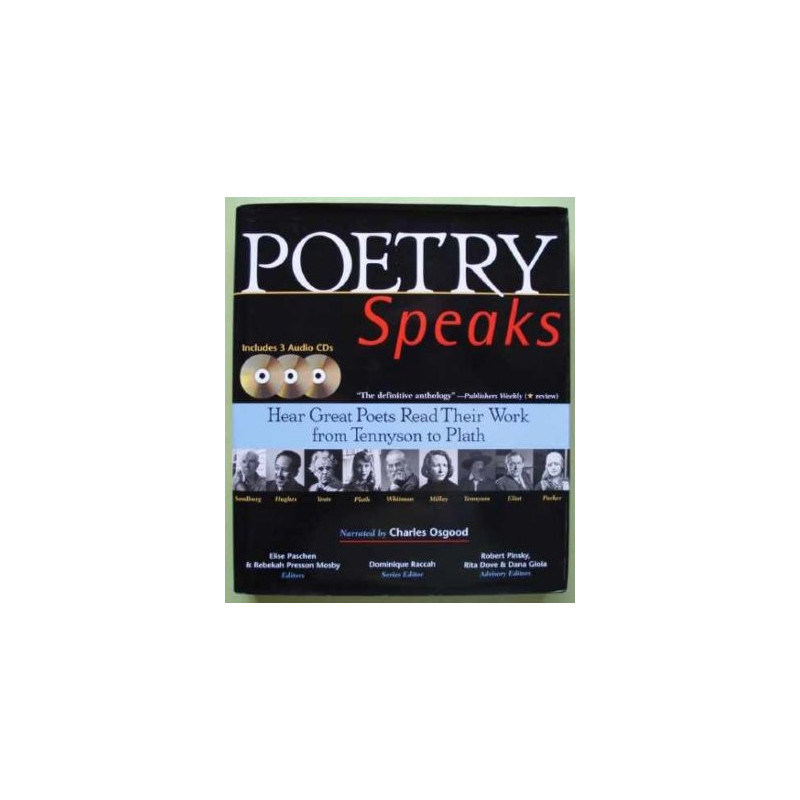  
Poetry Speaks: Hear Poets Speaks (HB, 3CDs, Plath, etc)
Hardbound. Poetry Speaks features the work of the most influential writers in modern poetry-written and performed-from 1892 to 1997. This book combines their most significant poems in print with the authors themselves reading their poetry on audio CD. Poets range from Alfred, Lord Tennyson, Walt Whitman, T.S. Eliot and Dorothy Parker to Langston Hughes, Allen Ginsberg, Sylvia Plath and Gwendolyn Brooks.

Delivery policy
Options presented upon check-out for 1-3 day delivery
Format: Hardbound, includes 3 audio CDs in original packaging (unopened)

Condition: vg-condition, minor shelf wear, unread overstock copy

The power of spoken poetry is at the heart of Poetry Speaks. Poetry is a vocal art, an art meant to be read aloud. Listening to a poem read aloud can be a transforming experience. Poetry Speaks not only introduces the finest work from some of the greatest poets who ever lived, it reintroduces the oral tradition of poetry.

Poetry Speaks features over 40 poets in chapters each containing:

The poems that are read by the poet on the audio CD
Additional poems in print form to allow the reader to further explore the poet

A short biography and photo of each poet

Original manuscripts and letters for most of the featured poets

An original essay for each poet written by today's most influential poets, a veritable Who's Who of poetry, including:

Seamus Heaney on W.B. Yeats; Richard Wilbur on Robert Frost; Mark Strand on Wallace Stevens; Jorie Graham on Elizabeth Bishop; Glyn Maxwell on Dylan Thomas; and Rita Dove on Melvin B. Tolson.

Poetry Speaks-combining the talents of great poets past and living, their words written and spoken-is the most ambitious, comprehensive and innovative poetry project to be published in years, and is sure to be the model for collections to come.