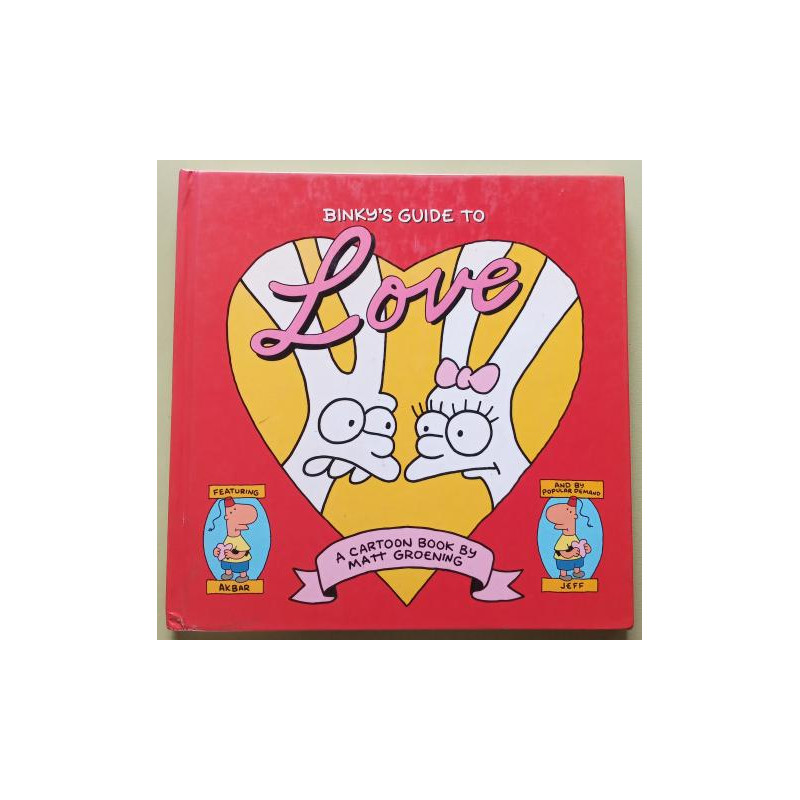  
Binky's Guide to Love by Matt Groening (HB)
Hardbound. A cartoon book by Matt Groening, creator of The Simpsons.

Delivery policy
Options presented upon check-out for 1-3 day delivery
Format: Hardbound

Condition: vg- condition, minor shelf wear, light bump on corner, unread overstock copy, remainder marked, NO DUSTJACKET (not sure if as issued)

Size: 11.25"x11.25"

Pages: 124pp

Let binky and the gang be your not-quite-sure-footed Sherpa guides as you navigate the treacherous bliss abyss and otherwise craggy emotional terrain called love in Matt Groening's timeless trenchant treatise, featuring 120 cartoons from his irrepressible, alarmingly popular life in hell comic strip.

Inside you,ll find more than 30 Love Secrets Revealed!

take aim at The Dart Game of Love
(or Pin the Tail on Your Inner Donkey)!
learn to spot Questionable Opening Lines!
steer clear of Nine Common Ruts!
commit to memory First Date Conversational No-Nos!
stump yourself with Six Tormenting Love Questions!

Or, if all else fails, hopeless cases can even learn to capitalize on the infinite "Joys of Lovelessness" -- such as "You don't have to hold your stomach in." And much, much more!!!

This overbite-sized, over-hilarious sequel to the outrageously enduring Love Is Hell proves beyond a shadow of a doubt that love is still hell!