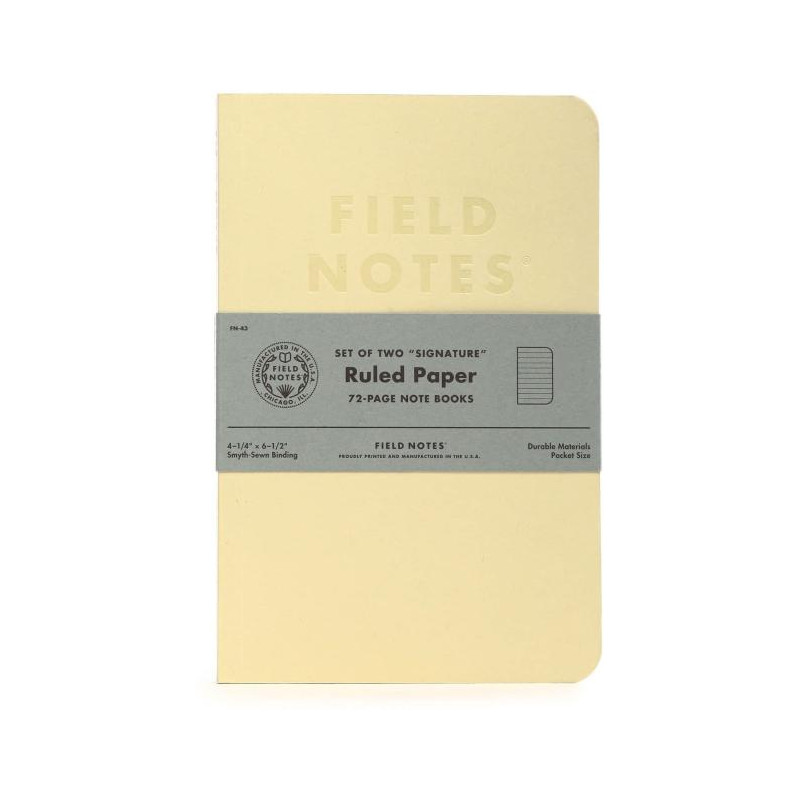  
Field Notes Signature Ruled 2-pack
Sewn-in-Signature Binding. Premium Paper. Ruled notebook 2-pack.

Delivery policy
Options presented upon check-out for 1-3 day delivery
Condition: Brand new, sealed.
Ruled 72-page Note Books, 2-pack
Dimensions are 4-1/4" by 6-1/2" 72" (108mm by 165mm)
Ruled lines: 1/4"
Corners precisely rounded to a 3/8" (9.5mm) radius
Covers are gently debossed with just a tint of ink.
SPECIFICATIONS:
01. Proudly printed by the good people of eDOC Communications, Mount Prospect, Ill.
02. Cover: French Paper Co. Construction 100#C "Cement Green" and "Steel Blue" with a gentle 1-color application of tinted soy-based Saphira ink. Debossed by Nu-Wave Die Cutting & Finishing, Chicago, Ill.
03. Innards: Strathmore Premium Wove 70#T "Ultimiate White" with a fine, 1-color application of "Signature Gray" soy-based Saphira ink.
04. Cover and innards printed on a Heidelberg Speedmaster XL 105 40" 6-color offset printing press.
05. Bound with Coats Dual Duty C8167 "Natural" thread on a Smyth Freccia sewing machine and Muller Martini Norm binder at Harris Bindery, Downers Grove, Ill.
06. Corners precisely rounded to a 3/8" (9.5mm) radius with a Challenge SCM double round-corner machine.
07. Ruled lines (where applicable): 1/4" (6.4mm).
08. "Signature" dimensions are 4-1/4" x 6-1/2" (108mm x 165mm).
09. FIELD NOTES uses the Futura family (Paul Renner, 1927) in its materials.
10. All FIELD NOTES memo books are printed and manufactured in the U.S.A.
11. UPC: FN-42 Plain Paper 858493003677, FN-43 Ruled Paper 858493003684