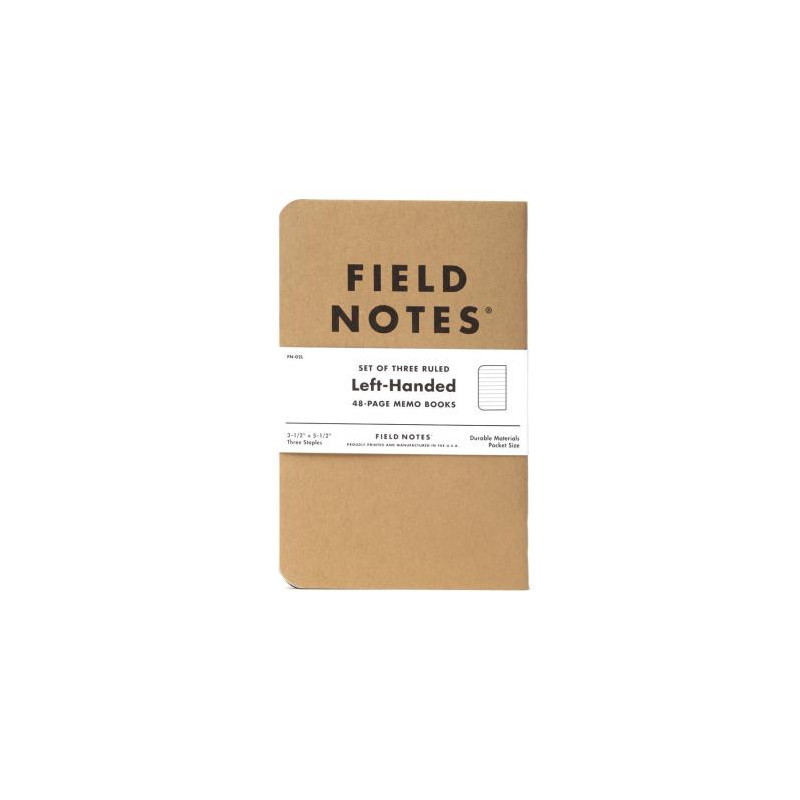  
Field Notes Left-Handed (3-Pack)
A Left-Handed Notebook, Done Just Right.

Delivery policy
Options presented upon check-out for 1-3 day delivery
CONDITION: BRAND NEW, SEALED
With ten percent of the world's population left-handed, we figured it was about time to make a notebook just for them. It's identical to our Original Kraft Ruled Memo Book in every way except for this. We reversed the direction, and put the staples on the other side. Got a southpaw in your life? Get 'em a 3-Pack of our new Left-Handed Ruled Memo Books.
SPECIFICATIONS:
01. Proudly printed by the good people of eDOC Communications, Mount Prospect, Ill.
02. Cover: French Dur-O-Tone 80#C "Packing Brown Wrap," with a thick, brute force, 1-color application of "Dachshund Nose Black" soy-based Saphira ink.
03. Innards: Finch Paper Opaque Smooth 60#T "Bright White," with a fine, 1-color application of "Double Knee Duck Canvas Light Brown" soy-based Saphira ink.
04. Cover and innards printed on a Heidelberg Speedmaster XL 105 40" 6-color printing press.
05. Bound with a Heidelberg Stitchmaster ST 270 5-pocket saddle stitcher with cover feeder/scorer & Rima RS 10S in-line stacker, with appreciation to Samuel Slocum, George W. McGill, and William J. Brown, the "Founding Fathers of the Staple."
06. Corners precisely rounded to a 3/8" (9.5mm) radius with a Challenge SCM double round-corner machine.
07. Ruled lines: 1/4" (6.4mm).
08. Memo book dimensions are 3-1/2" × 5-1/2" (89mm x 140mm).
09. FIELD NOTES uses only the Futura typeface family (Paul Renner, 1927) in its materials.
10. All FIELD NOTES memo books are printed and manufactured in the U.S.A.
11. UPC: 858493003561
Customers who bought this product also bought: