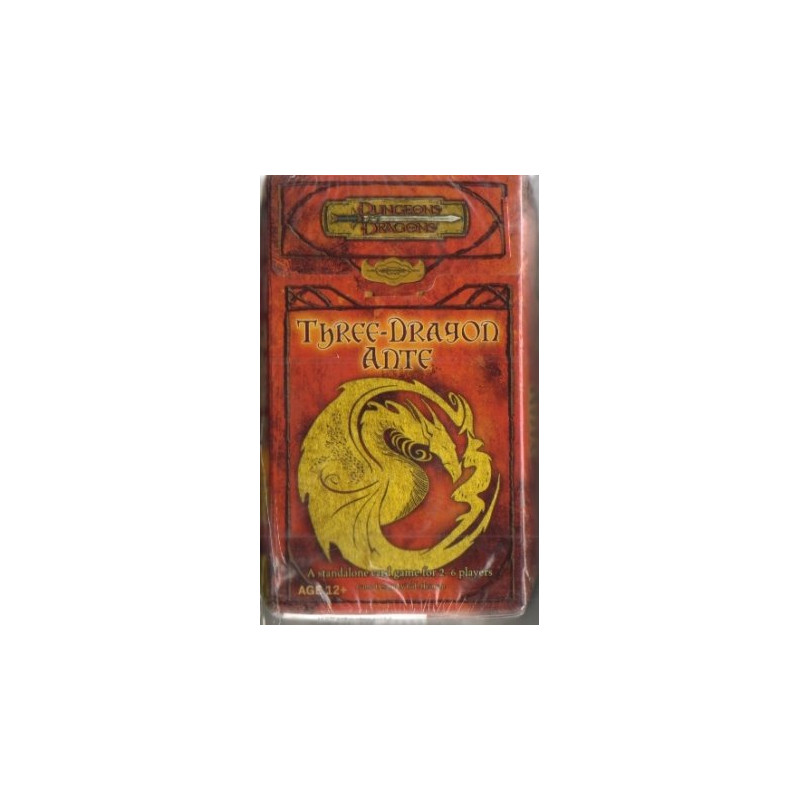  
Dungeons & Dragons: Three-Dragon Ante (Stand-Alone D&D)
Hard-to-find. A D&D-themed card game appropriate for anyone interested in a fun, fast, fantasy-based.

Delivery policy
Options presented upon check-out for 1-3 day delivery
RARE and never used. Boxed and in original plastic wrapping. Very good unused condition, box slightly/somewhat pressed due to transit/storage. Game design by Rob Heinsoo. 2005 Wizards of the Coast.

This fun and entertaining card game for 2-6 players showcases dragons from the D&D world. Easy to learn and play, this game is great for everyone, from dedicated D&D gamers to poker fans to casual card players. D&D characters can also play Three Dragon Ante within the context of any D&D campaign.

A Barbarian, a Wizard, and a Cleric walk into a Tavern...

... to gather a little information, plan their next dungeon foray- and kick back with a game of Three-Dragon Ante. Crack open this box and experience the high-stakes game of chance preferred by Dungeons & Dragons characters of all classes and levels.

Fast-paced noncollectable card game for two to six players. To play, you'll need chips, coins or some other way to represent each player's hoard of 50 gold pieces. Contains 72 cards and rulebook.