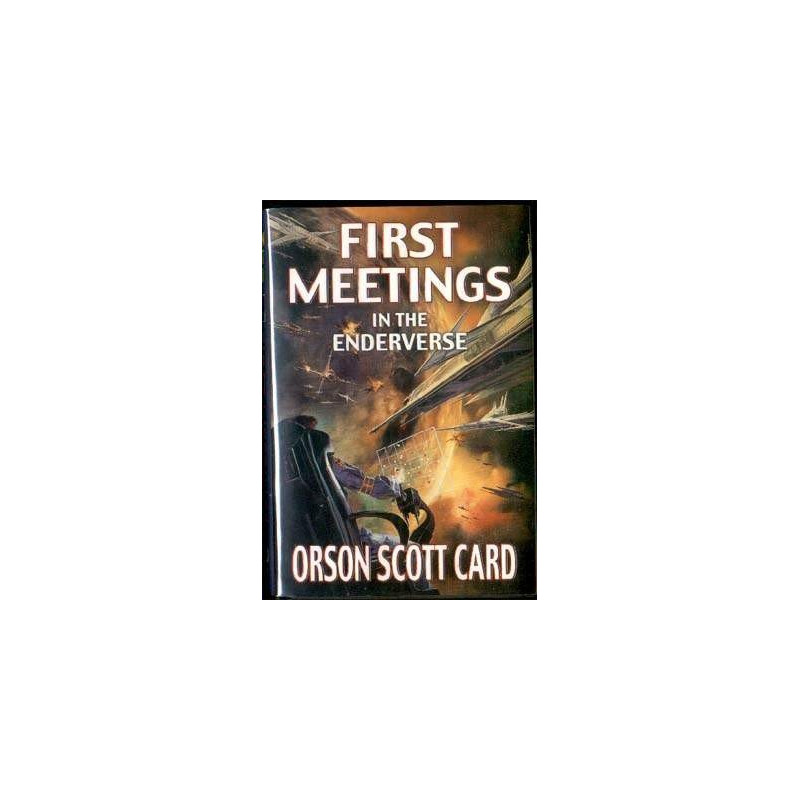  
First Meetings by Orson Scott Card (Ender's Game, HB Signed)
Hardbound. SIGNED by author Orson Scott Card! First Meetings: in the Enderverse. Four Outstanding Novellas, One Brand-New to this collection. Includes the Original "Ender's Game", illustrated by Craig Phillips.

Delivery policy
Options presented upon check-out for 1-3 day delivery
Format: Hardbound, SIGNED by the author

Condition: vg- condition, minor shelf wear, remainder marked
Pages: 208pp, 2003 edition

Welcome to the Enderverse... When "Ender's Game' was first pubished as a novella twenty-five years ago, few would have predicted that it would become one of the most successful ventures in publishing history. Expanded into a novel in 1985, Ender's Game won both the Hugo Award and the Nebula Award for Best Novel. Never out of print and translated into dozens of languages, it is the rare work of fiction that can truly be said to have transcended a genre. Ender's Game and its sequels have won dozens of prestigious awards and are as popular today among teens and young readers as among adults.

First Meetings is a collection of three novellas- plus the original "Ender's Game"- that journey into the origins and the destiny of one Ender Wiggin.

The Polish Boy begins in the years between the first two Bugger Wars when the Hegemony is desperate to recruit brilliant military commanders to repel the alien invasion. In John Paul Wiggin- the future father of Ender- they believe they may have found their man. Or boy.

In Teacher's Pest- a novella written especially for this collection - a brilliant but insufferably arrogant John Paul Wiggin, now an American university student, matches wits with an equally brilliant graduate student named Theresa Brown.

It is many years since the end of the Bugger Wars in The Investment Counselor. Ender's reputation as a hero and savior has suffered a horrible reversal. Banished from Earth and slandered as a mass murderer, twenty-year-old Andrew Wiggin wanders incognito from planet to planet as a fugitive- until a blackmailing tax inspector compromises his identity and threatens to expose Ender the Xenocide.

Also reprinted here is the original landmark novella, Ender's Game, w/c first appeared in 1977.

First Meetings is Orson Scott Card writing at the height of his considerable powers about his most compelling character.