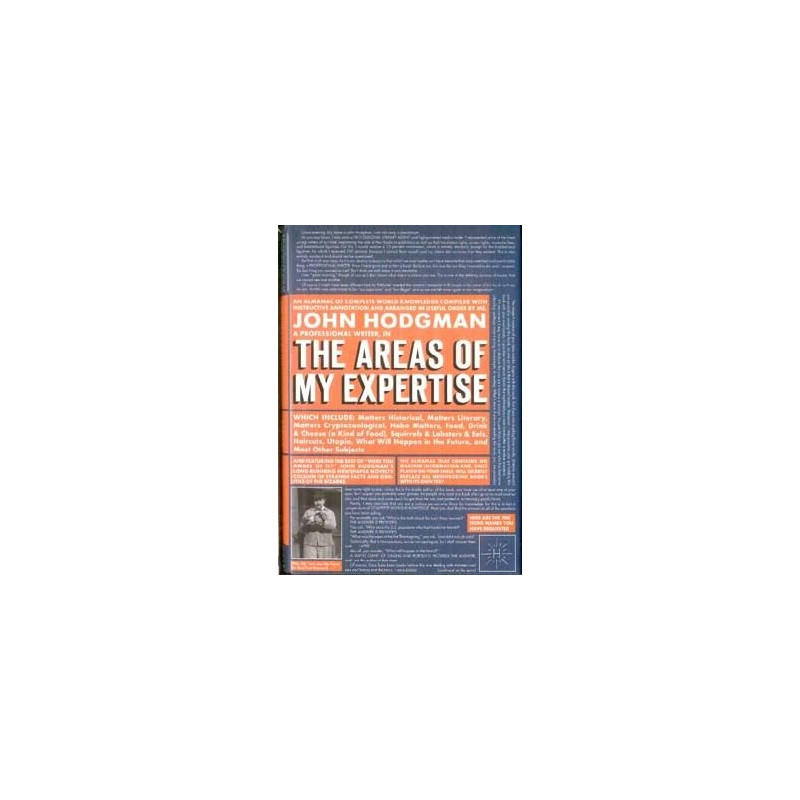  
The Areas of My Expertise by John Hodgman
Hot on the heels of the #1 bestsellers The Onion's Our Dumb Century and Jon Stewart's America comes The Areas of My Expertise, the brilliant and uproarious #15 bestseller (i.e., a runaway phenomenon in its own right-no, seriously)-a lavish compendium of handy reference tables, fascinating trivia, and sage wisdom-all of it completely unresearched, completely undocumented and (presumably) completely untrue, fabricated by the illuminating, prodigious imagination of John Hodgman, certifiable genius.

Delivery policy
Options presented upon check-out for 1-3 day delivery
Format: Trade Paperback

Condition: vg- condition, minor shelf wear

Size: 5.25"x8.0"

Pages: 236pp, 2005 edition

In this super-literate, ultimately exhausting exercise in literary parody, New York Times magazine contributor Hodgman has produced "a compendium of COMPLETE WORLD KNOWLEDGE." From sections titled "What Will Happen in the Future" to "What You Did Not Know About Hobos," he piles up smart-alecky nonsense in layer upon layer of surreal, wholly fictional factoids. Whether highlighting American presidents who had hooks for hands, or sketching out the mythical secrets of Yale University, Hodgman creates a strange and intermittently hilarious parallel universe where lists of history's worst haircuts (in addition to the Mullet, there are the Scrape, the Scab and the Shag-Swoop) are printed alongside descriptions of "famous novels that were not originally published as books." Sprinkled throughout with breathless "factual" interjections—"Were you aware of it? The body of Thomas Edison was never buried. Instead it was displayed for many decades in a traveling carnival.... DOES IT EVEN SEEM POSSIBLE?"—this "almanac" demonstrates Hodgman's formidable imagination, if not his ability to amuse consistently. The individual passages are funny but get lost in an already overstuffed work. For the hyper-well-read fans of publications like McSweeney's, this is a treasure trove of twisted absurdist miscellany. For others, however, it may just be too much of a good thing.