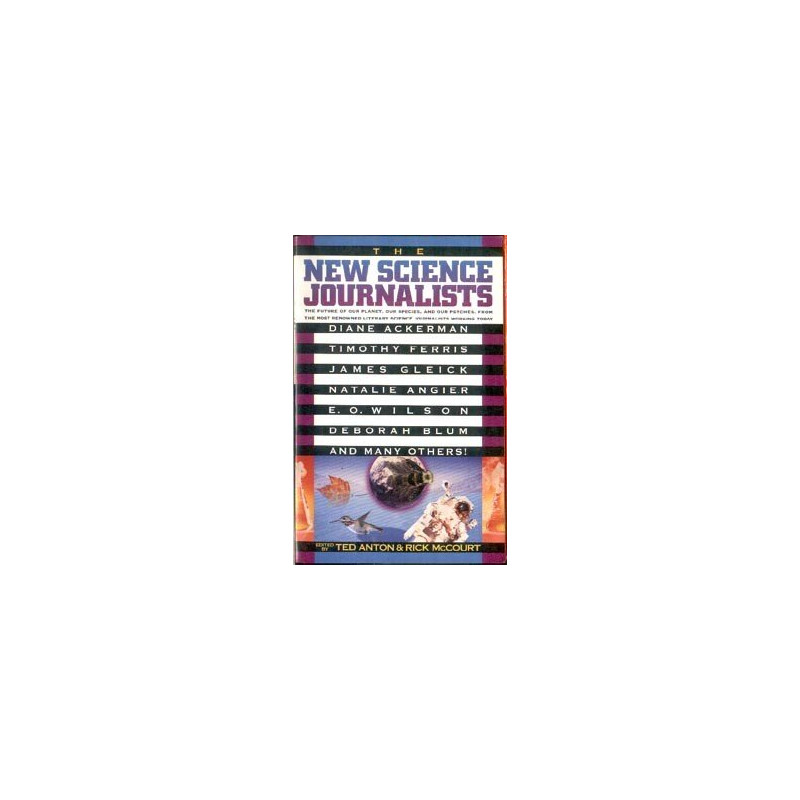  
The New Science Journalists (Ackerman Gleick Ferris, etc)
The New Science Journalists: The Future of our Planet, our Species, and our psyches, from the most renowned literary science journalists working today.

Delivery policy
Options presented upon check-out for 1-3 day delivery
Format: Trade paperback

Condition: good+ condition, minor shelf/storage wear, some brown spotting on page edges due to extended storage

Size: 5.25"x8.0"

Pages: 342pp, 1995 edition

In The New Science Journalists, Editors Ted Anton and Rick McCourt have gathered the best of the new science writing into one illuminating volume. What is new about the work of these journalists lies in the scale, pace, and uses of their writing. These writers bridge the gap between members of the science community and a society hungry for news about their work, acting not only as reporters and commentators, but also as investigators, researchers, detectives, and storytellers.

The editors have showcased three very different kinds of writers. The first group explores the complexities of our universe with childlike wonder, and includes Diane Ackerman, John Seabrook, and Elisabeth Rosenthal. The second group, relentless investigators who expose the inside stories of scientific research, includes Deborah Blum, Robert Capers, Eric Lipton, and John Crewdson. And the third group of writers, who dig through data uncovering trends that researchers themselves miss, features Timothy Ferris, E.O. Wilson, James Gleick, and many more.

These writers are helping to broaden the very boundaries of science by making complex topics such as chemistry, physics, biotechnology, and ecology accessible and entertaining to readers of every kind. Combining superb prose and compelling subjects, The New Science Journalists examines some of the most fascinating issues of our times.