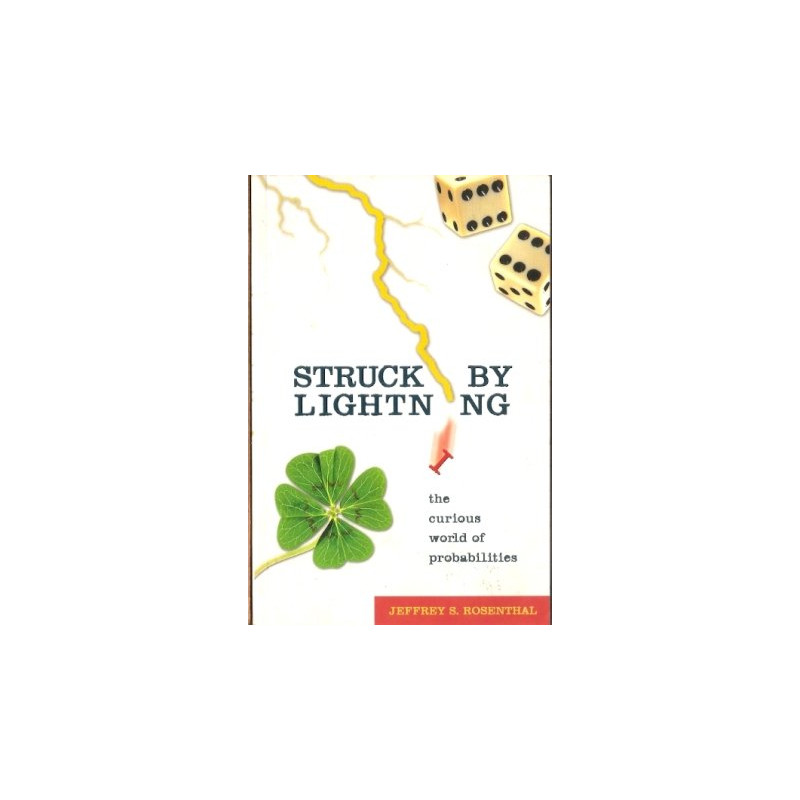  
Struck by Lightning: The Curious World of Probabilities by Jeffrey S. Rosenthal
From terrorist attacks to big money jackpots, Struck by Lightning deconstructs the odds and oddities of chance, examining both the relevant and irreverent role of randomness in our everyday lives.

Delivery policy
Options presented upon check-out for 1-3 day delivery
Format: Trade Paperback

Condition: vg- condition, minor shelf wear, some light edge wear

Size: 5.25"x8.0"

Pages: 254pp, 2006 edition

Others: All defects if any are formulated into pricing

Human beings have long been both fascinated and appalled by randomness. On the one hand, we love the thrill of a surprise party, the unpredictability of a budding romance, or the freedom of not knowing what tomorrow will bring. We are inexplicably delighted by strange coincidences and striking similarities. But we also hate uncertainty's dark side. From cancer to SARS, diseases strike with no apparent pattern.

Terrorists attack, airplanes crash, bridges collapse, and we never know if we'll be that one in a million statistic. We are all constantly faced with situations and choices that involve randomness and uncertainty. A basic understanding of the rules of probability theory, applied to real-life circumstances, can help us to make sense of these situations, to avoid unnecessary fear, to seize the opportunities that randomness presents to us, and to actually enjoy the uncertainties we face. The reality is that when it comes to randomness, you can run, but you can't hide. So many aspects of our lives are governed by events that are simply not in our control. In this entertaining yet sophisticated look at the world of probabilities, author Jeffrey Rosenthal--an improbably talented math professor--explains the mechanics of randomness and teaches us how to develop an informed perspective on probability.