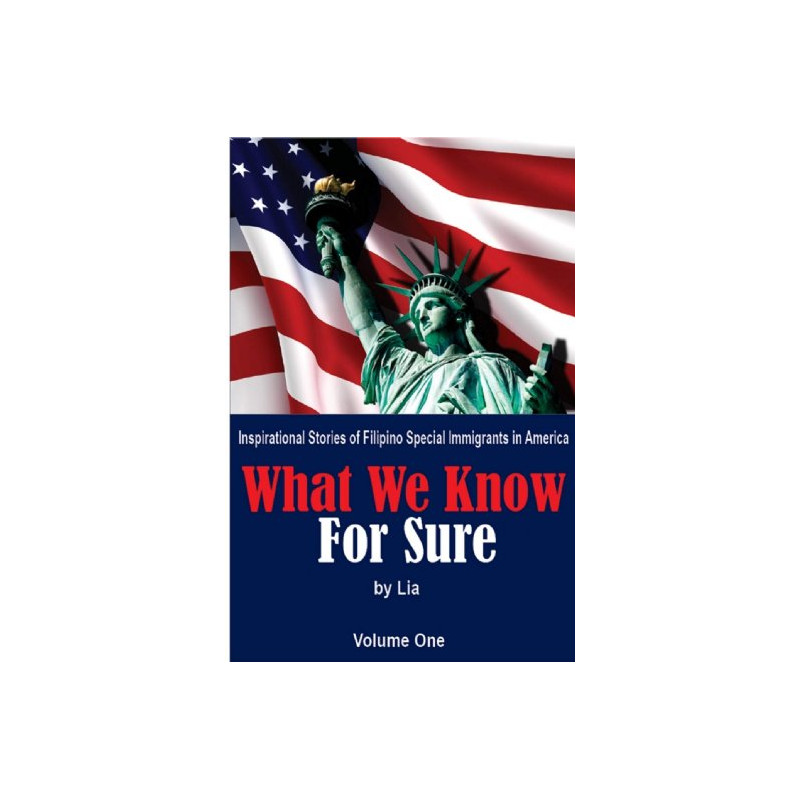  
What We Know For Sure by Lia Ocampo
Inspirational Stories of Filipino Special Immigrants in America.

Delivery policy
Options presented upon check-out for 1-3 day delivery
Format: Trade paperback

Condition: brand new, self-published

Size: 6.0"x9.0"

Pages: 132pp, 2020 edition

What We Know For Sure features Filipino embassy employees who provided long, faithful, and valuable service to the United States Government. In this book, they share the process of coming to America and the truth behind the hard work and sacrifices it takes to stay. It was written for potential immigrants and immigrants, no matter what stage of the process they are in. These stories are here to comfort, inspire, educate, and guide any immigrant throughout his or her journey to the land of the free.

------

"Readers will find their stories informative and heart rendering. A testament to their individual and collective determination to build better lives in America for themselves and their families. They remind us of the importance of humility in starting over in a new land while at the same time demonstrating perseverance amid health scares, loss of family in the Philippines, and career challenges."

- HARRY K. THOMAS, Jr. Ambassador (Retired)

ABOUT THE AUTHOR

Lia Ocampo is a multifaceted individual with a passion for writing, reading, and helping people. She spent 18 years working for the American Embassy in the Philippines and immigrated to the U.S> in 2012, Lia recently fulfilled her "Mission Africa" and was inspired to create another mission called "Mission Philippines" which eventually the impetus for her first book, What We Know For Sure. She currently resides in Florida and New York, where she remains dedicated to her writing and her love of travel and people. She is a passionate flight attendant, a world explorer, and a sunset lover. Lia lives her best life with grace, gratitude, happiness, courage, and strength.

For more information about Lia, visit www.AuthorLia.com.