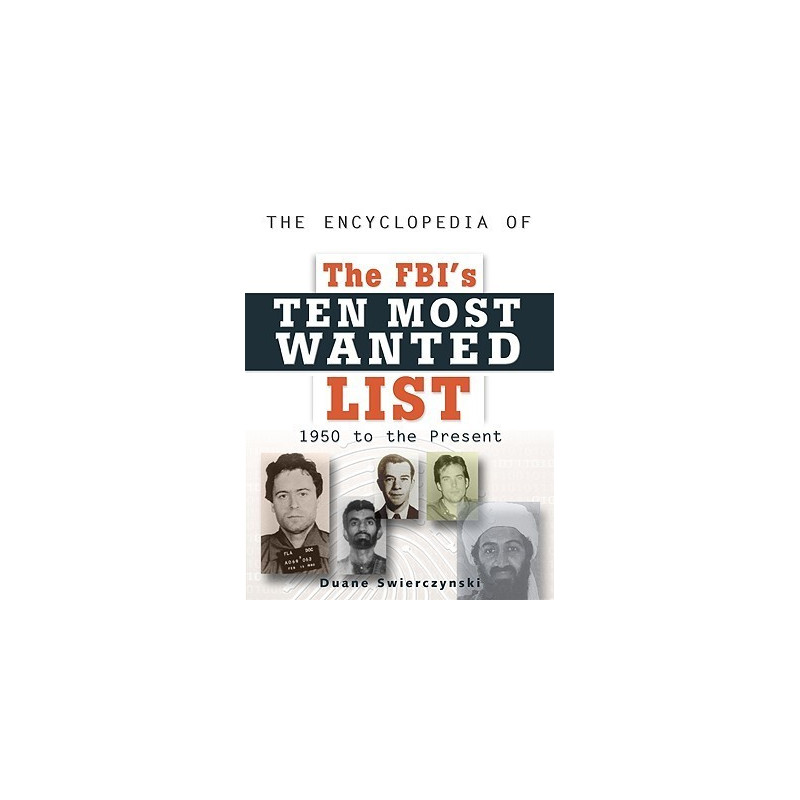  
Encyclopedia of The FBI's Ten Most Wanted List: 1950-Present
The Encyclopedia of the FBI's Ten Most Wanted List: 1950 to Present features the Most Wanted list in its entirety, presented in chronological order. Each profile includes the criminal's vital statistics, details of the crimes committed, the date(s) he or she was placed on the list and caughty (if applicable), the events surrounding the fugitive's capture, and an interesting fugitive fact.

Delivery policy
Options presented upon check-out for 1-3 day delivery
Format: Trade paperback

Condition: vg- condition, minor shelf wear, unread overstock copy, light bump tear on back cover

Size: 8.5"x11.0"

Pages: 336pp, 2004 edition

In 1949, a United Press crime reporter scrambling to fill acolumn called a friend at the FBI for the names of the nation's 10 worst criminals. Headlined "FBI's Most-Wanted Fugitives Named," the article that followed listed 10 names, each accompanied by a photo, physical description, and details of the crime committed. The article drew immense media attention and public suppor tthat led to the capture of two fugitives. One year later, Director J. Edgar Hoover and the FBI institutionalized the Ten Most Wanted list, which would become one of the most effective crime-fighting tools in American history: 94 percent of all fugitives on the list have been captured to date. The FBI official criteria for the Ten Most Wanted list: the fugitive must be a particularly dangerous menace to society, and nationwide publicity should help in apprehending the fugitive.

Here are a few of the criminals who made the Top Ten:

3. William Raymond Nesbit, first on the list to be captured
11. Willie Sutton, gentleman bank robber
23. and 133. Ernest Tait, burglar and two-time Most Wanted Fugitive
206. and 207. Samuel Jefferson Veney, cop killer, and Earl Veney, armed robber
277. James Earl Ray, assassin of Martin Luther King, Jr.
293. Ruth Eisemann Schier, kidnapper and first woman to make the Top Ten
360. Ted Bundy, serial killer
436. Ramzi Ahmed Youself, 1993 World Trade Center bomber
456. Usama Bin Laden, terrorist and international public enemy number one
458. James J. "Whitey" Bulger, Boston mobster

Appendixes include the Most Wanted since 2000 and the current Top Ten list, as well as contact information for the 56 FBI field offices across the United States. The Encyclopedia of the FBI's Ten Most Wanted List is an indispensable guide for crime researchers and general readers interested in criminology.