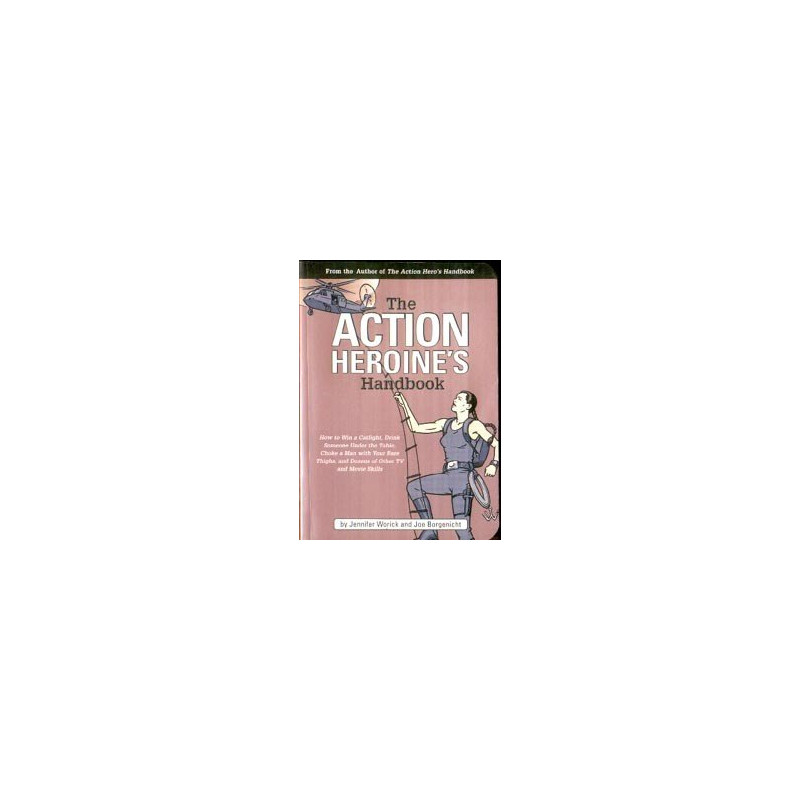  
The Action Heroine's Handbook by Jennifer Worick & Joe Borgenicht
How to Win a Catfight, Drink Someone Under the Table, Choke a Man with your Bare Thighs, and Dozens of Other TV and Movie Skills.

Delivery policy
Options presented upon check-out for 1-3 day delivery
Format: Trade paperback

Condition: vg- condition, minor shelf wear

Size: 5.0"x7.0"

Pages: 192pp

For every woman who wants to be as tough as Lara Croft, as nimble as the Bionic Woman, and as babe-a-licious as Charlie's Angels, The Action Heroine's Handbook shows how to conquer the bad guys in virtually any situation. This sequel to The Action Hero's Handbook (more than 150,000 copies in print!) features step-by-step illustrations and instructions on profiling a serial killer, going undercover as a beauty queen, navigating white water rapids, outwitting a band of house invaders, and more. All the information is reality based and comes from a host of experts (including stuntwomen, jujitsu instructors, and primatologists). Special sections and appendices highlight the top action heroine hairdos, handbag essentials, and the best footwear for every action situation. Includes:

How to Win a High-Speed Chase in High Heels and a Bustier
How to Navigate a Roomful of Laser Beams
How to Fend Off the Undead
How to Protect Your Child from a Ferocious Beast
How to Turn Yourself into a Hottie in Five Minutes or Less
How to Dance like a Maniac
How to Striptease
How to Hook a Millionaire
How to Turn a Man into a Sex Pawn
How to Eavesdrop from a Distance
How to Investigate Your Spouse/Lover
How to Maintain a Secret Identity
How to Go Undercover as a Beauty Queen/ Prostitute/ a Man
How to Fight with Your Hands Cuffed
How to Knock Out a Man with a Running Wall Kick
How to Fake Your Own Death
How to Maneuver a Raft Down Class V+ Rapids
How to Win a Chase Across Rooftops... and many more!