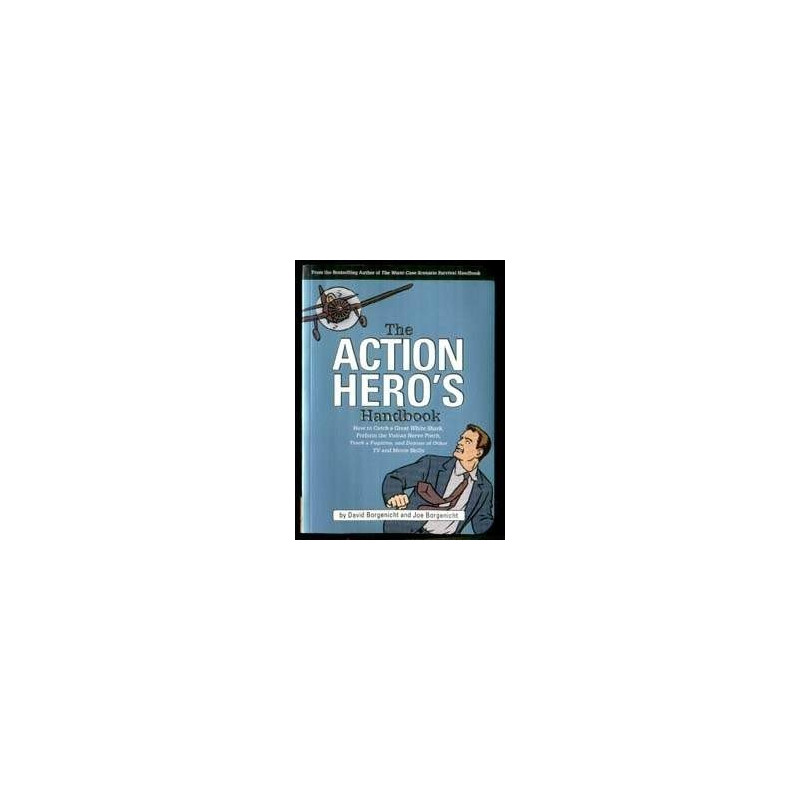  
The Action Hero's Handbook (from the author of the Worst-Case..)
The Ultimate Guide to Keeping Up with the Indiana Joneses. From the Bestselling author of The Worst-Case Scenario Survival Handbook, by David Borgenicht and Joe Borgenicht.

Delivery policy
Options presented upon check-out for 1-3 day delivery
Format: Trade paperback

Condition: vg- condition, minor shelf wear, unread overstock copy

Size: 5.0"x7.0"

Pages: 192pp, 2002 edition

For everyone who's ever wanted to be as smooth as James Bond, as clever as Captain Kirk, or as tough as Charlie's Angels, The Action Hero's Handbook is the ultimate guide to the essential skills every action here needs to survive and thrive in this dangerous but exciting world.

This book features dozens of real-life action here techniques, directly from experts in the subjects at hand: FBI agents, sexologists, stuntmen, hypnotists, karate masters, criminologists, detectives, and many others.

Learn how to:
- how to secure/spyproof a hotel room
- how to secure and read a crime scene
- how to track a fugitive
- how to interrogate a suspect
- how to survive in prison when you're wrongly incarcerated
- how to tell when someone is really dead
- how to save someone who has flat-lined
- how to drive a bus at high speed
- how to take a bullet
- how to negotiate a hostage crisis
- how to stop a wedding
- how to dirty dance
- how to turn sexual tension into mad, passionate sex
- how to fend off a ghost
- how to perform the Jedi Mind Trick
- how to perform the Vulcan Nerve Pinch
- how to win a fight when you're outnumbered
- how to disarm a thug with a gun
- how to evade a MiG
- how to fix your space shuttle on reentry
- how to win a high speed car chase
- how to catch someone in the air when you don't have a parachute
- how to crash through a window
- how to escape a sinking cruise ship...

and dozens of other Good Guy Skills, Love Skills, Paranormal Skills, Fighting Skills, and Escape Skills. With meticulously researched step-by-step instructions and easy-to-follow illustrations, The Action Hero's Handbook will get you ready for anything. Good luck- we're all counting on you.