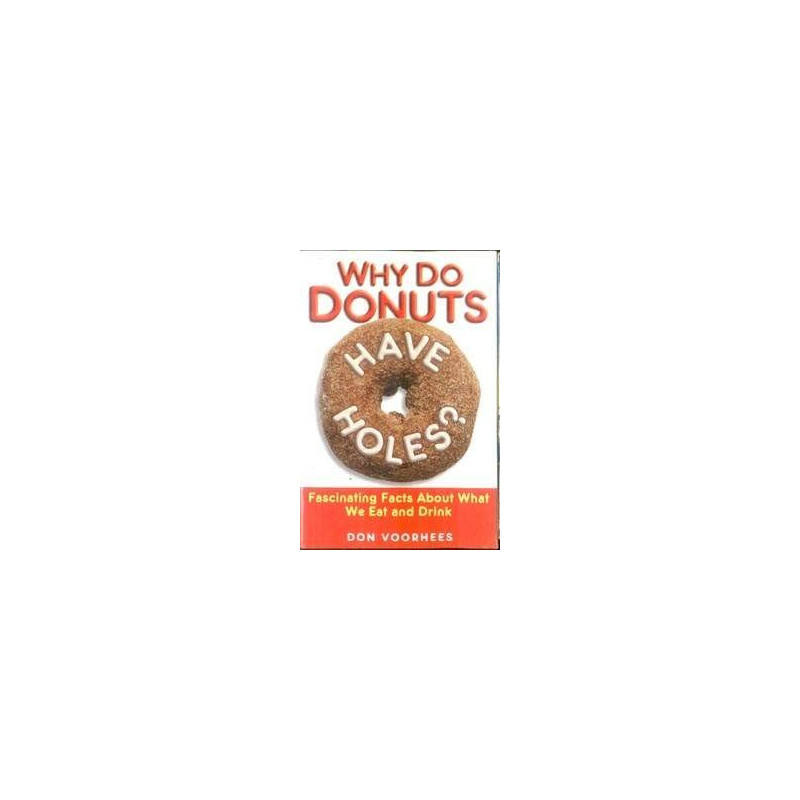  
Why Do Donuts Have Holes: Fascinating Facts About What We..
Why Do Donuts Have Holes: Fascinating Facts About What We Eat and Drink by Don Voorhees.

Delivery policy
Options presented upon check-out for 1-3 day delivery
Format: Trade paperback

Condition: vg-/good+ condition, minor shelf wear, unread overstock copy

Size: 5.25"x8.0"

Pages: 278pp, 2004 edition

Why is milk white? Can blueberries make you younger? What in the world is an electric pickle? For centures, a healthy obsession with eating has fueled human curiousity (and filled our stomachs). Why Do Donuts Have Holes? offers hundreds of witty and entertaining food facts, from the origins of popular phrases like "Mind your Ps and Qs" and food fads like TV dinners to the age-old question, "Which came first, the chicken or the egg?" Whether you're in the mood for comfort food or looking for the upper crust, this is one book that will definitely whet your appetite.

Do you know...

- Who wrote the first cookbook?
- What candy is named after a racehorse?
- How to avoid "brain freeze"?
- What classic American breakfast cereal used to have a kangaroo as its mascot?
- Where fortune cookies were first made?
- What the first ready-mix food was?
- When was beer first sold in bottles?
- How much dirt will you eat in your lifetime?
- Why did Gerber have a hard time selling baby food in Africa?
- Do the cooks on "Iron Chef" know the ingredeitns beforehand?

Find the answers to a veritable menu of fascinating questions. With categories such as "On the Hoof," "Eat Your Greens," and "Saucy!" here is a truly unique culinary compendium sure to appeal to trivia buffs and even the most finicky readers.