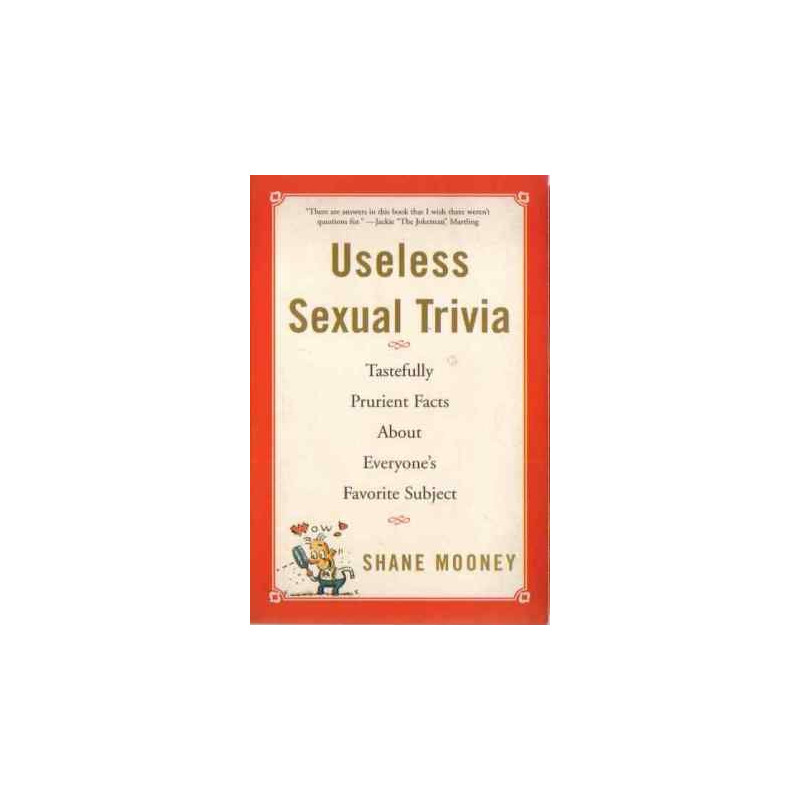  
Useless Sexual Trivia by Shane Mooney
Everything You Always Wanted to Know About Sex, But Never Knew to Ask. Tastefully prurient facts about everyone's favorite subject.

Delivery policy
Options presented upon check-out for 1-3 day delivery
Format: Trade paperback

Condition: good+ condition, minor shelf wear, light water stain spot first couple of pages

Size: 5.25"x8.0"

Pages: 170pp, 2000 edition

Did you know that in Middle-Eastern Islamic countries it is not only a sin but also a crime to eat a lamb that you've had sex with? Or that the world vanilla comes from a Latin word meaning "vagina" because of the vanilla pod's resemblance to the female genitalia? Or that Grand Tetons literally means "big tits"?

You've probably never even thought about such things. But here they are, in this unusual compilation of strange facts about the facts of life that will make you laugh out loud while your hair stands on end. Highlights include:

* Just the Factoids, Man -- For instance, the number of human ova necessary to repopulate the world could fit into a chicken egg.

* When Sex Goes Horribly Awry -- Don't be caught with your pants down. Learn once and for all the words you didn't find on your SATs, such as "acrotomophilia," "oculolinctus," and "taphephilia."

* Animal Lust -- There is more to sex in the animal kingdom than doing it doggie style. Did you know that a barnacle's penis is 150 percent of its body length?

* They Said What?! -- They said plenty: "I knew her before she was a virgin." (Oscar Levant on Doris Day)

* Sex Styles of the Rich and Famous -- Forget Bill and Monica. Adolf Hitler was a coprophiliac.

* Sex in History -- Catherine the Great did not die under a horse, but she did love to have her feet tickled and her bottom slapped.

* Around the World -- It's good to know, for the next time you're invited to the dinner party of a North-African Siwa man, that he believes you will find him irresistible if he laces your food with his semen.

* Crimes of Passion -- Did you know that in Harrisburg, Pennsylvania, it is illegal to have sex with a truck driver in a tollbooth?

Wonderfully outrageous and absolutely deadpan, this book is, unbelievably, all true.