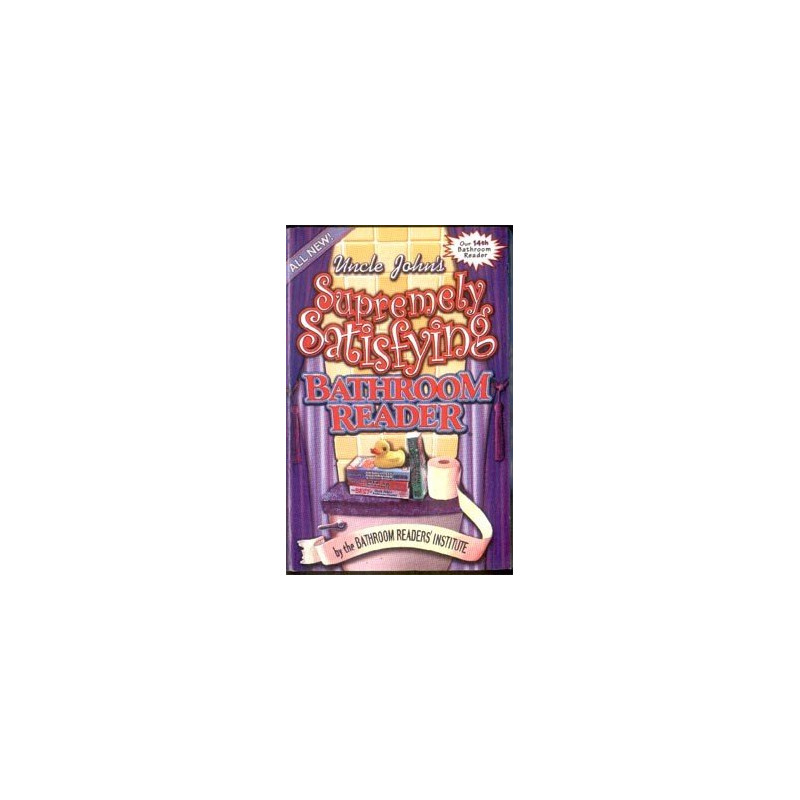  
Uncle John's Supremely Satisfying Bathroom Reader- 14th 2001
The 14th Bathroom Reader... 500 all-new pages of bathroom reading bliss.

Delivery policy
Options presented upon check-out for 1-3 day delivery
Format: Trade paperback

Condition: vg- condition, minor shelf wear, light spine creasing

Size: 5.25"x8.0"

Pages: 522pp, 2001 edition

Never again will you have that last-minute scramble for the perfect read.. All you need for supreme bathroom satisfaction is this absorbing tome.. Open it to any page- you'll find humor, trivia, science, hisotyr, mythology, pop culture.. and loads more!.. The "Uplifting" story behind the Bra!.. The Biggest cult movie of all time.. the history of photography.. the chocolate hall of fame.. box-office bloopers.. incredible animal facts.. strange pet lawsuits... animals famous for 15 minutes.. flubbed headlines.. American cannibal.. Who financed the Revolution?.. Why we have postage stamps?.. Calvin & Hobbes, classic hoaxes, urban legends, nude lawsuits... Citizen Kane.. Legend of King Arthur... famous for 15 minutes.com... Ironic deaths.. amazing anagrams.. Mount St. Helens, Who Wants to Marry a Millionaire?.. the Lost Cities.. and many more!!