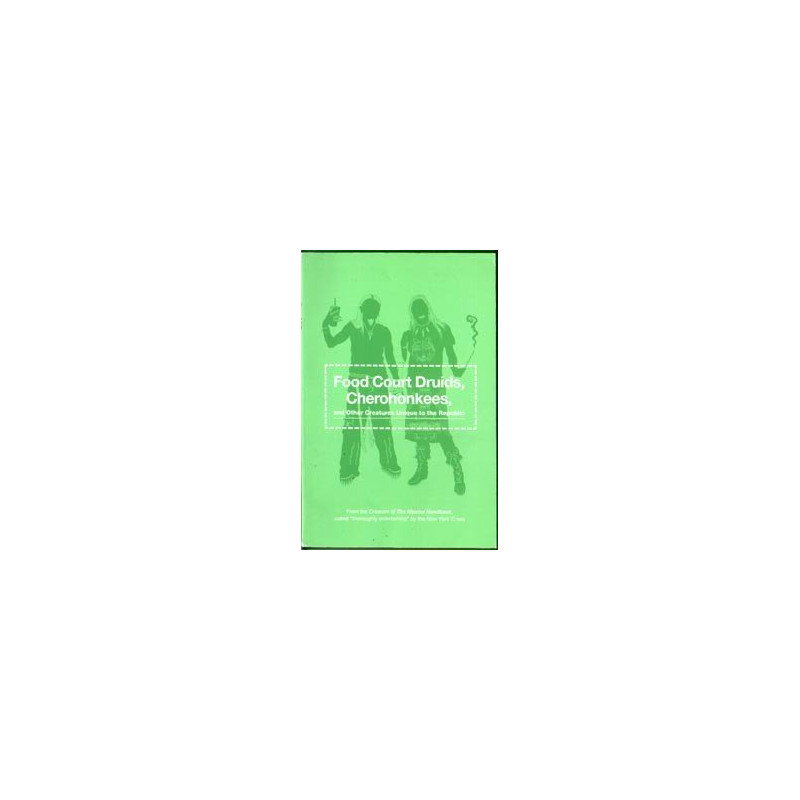  
Food Court Druids, Cherohonkees (Anthropology Parody Funny!)
Food Court Druids, Cherohonkees, and Other Creatures Unique to the Republic. Warning- You or Someone you know may be inside this book. Idiosyncrology n. The study and classification of individuals and groups of individuals based on their distinguishing behaviors and idiosyncrasies.

Delivery policy
Options presented upon check-out for 1-3 day delivery
Format: Trade paperback

Condition: vg- condition, originally unread overstock copy but some very light spotting on page edges due to extended storage, minor shelf wear

Size: 5.25"x8.0"

Pages: 180pp, 2004 edition

Lanham, author of The Hipster Handbook and creator and editor of the Web site www.freewilliamsburg.com, extends his anthropological examination of Americans beyond trendy Brooklyn neighborhoods to the entire country, where Yanknecks ("rebel-flag-waving rednecks who live outside the South"), Sigmund Fruits ("people who insist on telling you about their dreams") and others have existed thus far without being formally studied by "idiosyncrologists" like Lanham and his team. Presented with the authoritative tone of a serious anthropological study, complete with an Idio Rank Scale that assesses the weirdness of each type, many of Lanham's profiles are hilariously accurate descriptions of co-workers, family members, friends and other acquaintances that almost every American has encountered at some point in their lives. There are the Cornered Rabid Office Workers (CROWs), who "claim to be poets or playwrights" when discussing their work with strangers, "even if they just spent the last nine hours doing data entry on the McFlannery acquisition," and Hexpatriates, Americans who decry everything about America yet never actually leave the country (and who "refer to the Loews multiplex at the mall as 'the cinema' and the Motel Six by Hardees as 'the pensión'"). Illustrations by Jeff Bechtel, depicting the fashion sense of Holidorks (people who wear holiday-themed clothing) and Skants (women with shapely butts who always wear spandex pants), enhance Lanham's characterizations. Lanham's book offers an amusing overview of some of the quirkier folks that can be found across the country.

================

With a gimlet eye and scathingly accurate descriptions, Food Court Druids, Cherohonkees, and Other Creatures Unique to the Republic is a hilarious collection of newly classified yet instantly recognizable archetypes sure to enter the mainstream lexicon. From the office TGIF (the overgrown frat boy in the office who always says "party") to the Lieberal (a Democrat with Republican sympathies), from Uncle Tomatoes (Italians who hate The Sopranos) to Cherohonkees (white Baby Boomers who dress like Native Americans), each profile offers a detailed description of everything from sex appeal and favorite pick-up lines to popular names and habitats. The result is both a brilliant parody and thorough outing of just about every neurosis, attribute, and personality type there is.