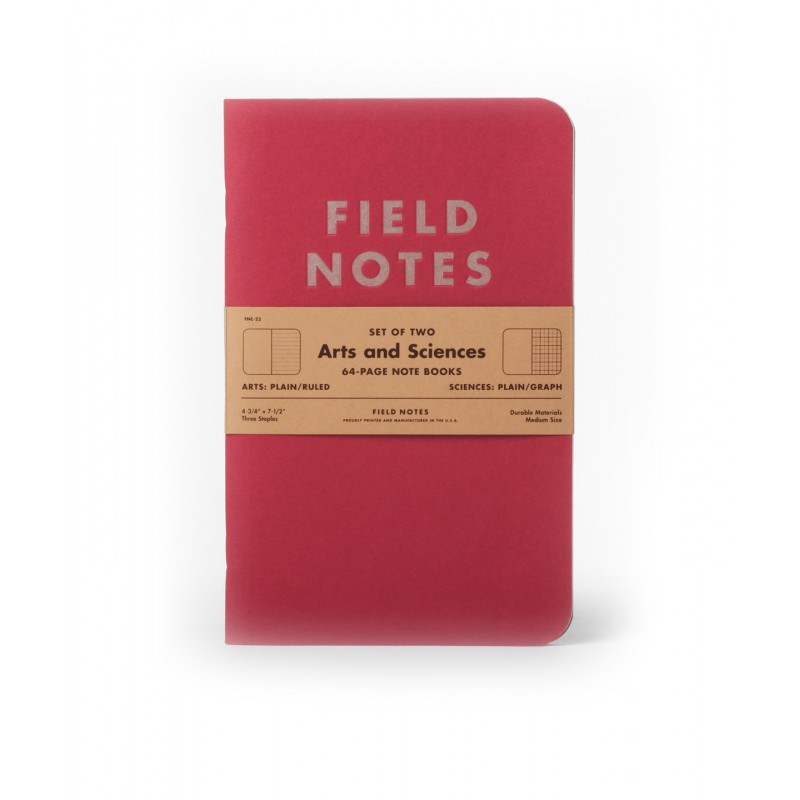  
Field Notes: Arts & Sciences (Summer 2014)
Field Notes Summer 2014 limited edition. Both books feature sturdy Mohawk Loop 110-lb covers with silver ink and debossed logos, with 64 pages of Finch Opaque 50-lb text paper inside.

Delivery policy
Options presented upon check-out for 1-3 day delivery
OUT-OF-PRINT. Usually this is priced around USD20.00 to as high as USD30.00 (based on recent eBay closed auctions) but selling lower because of imperfections.

Condition: BRAND NEW FACTORY SEALED. HOWEVER it seems the copper staples shows corrosion/patina which may affect inside pages. The notebooks are properly stored with silica gel packets but based on our experience some type of staples can't seem to take the Philippine weather. Corroded staples shown in one image.

For personal use I believe this "aging" shouldn't be an issue. Not recommended as a gift unless for true collectors. This information is provided to properly disclose the condition of said product. Like some said, consider it a feature, not a glitch.

Each book measures 4-3/4" wide by 7-1/2" tall. Two (2)-pack.
The "Arts" Note Book is designated for creative musings, featuring a wine-colored cover containing a wealth of handy information for writers and fine artists. Its 64 interior pages are quarter-inch ruled in "Academy Gray" for prose and poetry on the right-hand ("recto") side, and blank on the left-hand ("verso") side for sketches, scribbles, and sentence diagrams.
"Sciences" sports a dark slate gray cover loaded with the formulas, theories, and ideas you need to get you through your day. The recto pages feature an all-new "Engineer's Graph" subdivided into one-inch, half-inch, and tenth-inch squares in "Academy Gray." As with "Arts," the "verso" side of the sheet is blank, awaiting your diagrams, calculations, and observations.